Thsinde 18B+ Auto And Manual Ranging Review
The Thsinde 18B+ Multimeter has all the essential features you require in a multimeter. An excellent multimeter with almost 10 ranges this multimeter is best for home users and those into general electrical works, professionals and commercial use. In short, it is an auto-ranging digital multimeter, TRMS 6000, battery alligator clips, with test leads,  A/C & D/C voltage/ account, voltage alert, Amp/ Ohm/ Volts, multi-tester / diode, continuity and frequency.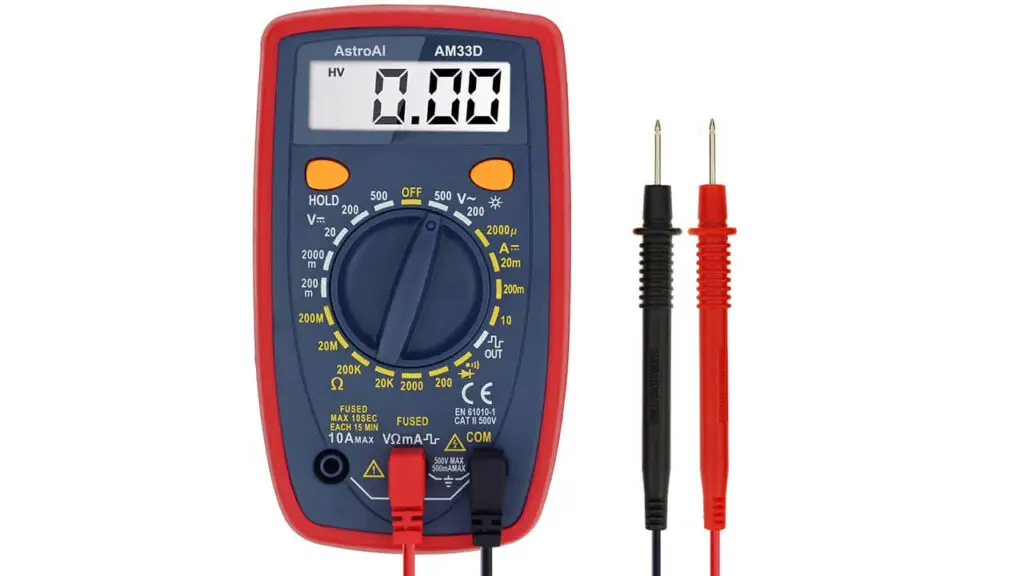 Quick review Thsinde 18B+
Display: 6000 counts
Hold mode
Auto power off
NCV test
Beep continuity test
Overload protection
Short-circuit protection
A/C, D/C Voltage
Voltage Alert
Amp/Ohm/Volt Multitester
Diode and continuity test
Large backlit display
D/C voltage to 1000V, A/C volts to 750V
It can accommodate voltage up to 600μA to 10A
It measures capacitance and frequency
True RMS
Weight: 11.4oz, 323g
What Inside Box Pacakge:
AstroAI AM33D
9 volt battery
Test Leads
Alligator clips
User Manual
Summary of the features
6000 Counts auto-ranging digital multimeter with battery alligator clips test leads A/C, D/C Voltage, Voltage Alert, Amp/Ohm/Volt  Multitester, diode and continuity test LED backlight LCD multiple ranges of tests for Voltage, Current, Resistance, Continuity, Capacitance, Frequency; Tests Diodes Transistors, Voltage tester.
Wide range of applications, ideal for home and professional use, automotive, home and the industrial electrical troubleshooting
Measurement of A/C, D/C amps, A/C, D/C voltage, resistance, frequency, duty cycle, capacitance and continuity and diode testing, consists of all ranges, it beeps when digital multimeter close to measured object, if distant from the object, the beep sound will become weak.
Battery assembling is relatively easy. Turn on the back cover and twist the back screw, install the battery and screw the battery cover back.
Detailed Review Thsinde Multimeter
This multimeter can perform all the test criteria; you will find all of the test criteria in this meter found on almost all the other known devices—for example, voltage and amperage, micro-amps, resistance and continuity, millivolts and frequency. There are also several other functions: Max/Min and average and a button (range). This button will make you select between auto-ranging and manual-ranging.
While measuring current, you can measure its all ranges, which belongs to amperage, milliamps and microamps, and this is very useful for electricians and electronics engineers, especially for HVAC systems.
Thsinde Multimeter has a large display screen. This is the plus point of this multimeter; some brands models do not have this. The display is bright, and it has backlit. The box includes alligator clips to boot. The auto-off function is also a great feature to save battery life. Sometimes this function is irritating while working if you are busy with the work and the auto-off function shutting off within a few devices.
The voltage alert function on the Thsinde is a non-contact voltage detector. This function is available in most multimeters nowadays. This function is beneficial for technicians, and it quickly detects the voltage in a cord, but any outlet or switch. It can also detect from a distance range. However, the reading is not reliable.
The multimeter is lightweight, rugged, and at the same time, a strong body.
It has a hanger to hang it for hands-free working, which is quite helpful for professionals.
The multimeter comes with a holster, helping in gripping and holding.
It has two lead storage on the rear.
A tilting bail is a valuable feature for hands-free.
Testing probes have protective caps. 
The large Display Screen on this multimeter is brighter and contains backlit. Its Resolution is up to 6,000 counts.
Thsinde 18B+ Key Functions:
Minimum/Maximum function: It can measure high voltage readings and low voltage readings. This function is beneficial if you quickly monitor the changing high or low voltage and current or resistance readings in a circuit, and the readings because of this function are automatically updated.
REL Button:
This button represents the Relative mode, and this mode is beneficial to compare the reading you have on the screen while measuring and storing one previously, and you may compare them together. The relative mode is zero when used. And to obtain an accurate reading, subtract the resistance in the test probes.
Range:
There are two ranges in this multimeter; auto-range and manual-range. In auto-mode, the multimeter automatically selects the range, while manual-rang allows you to select an individual range that works quicker.
Hold Button:
This button helps to display a backlit button.
Select Button:
A multimeter can switch the test criteria while selecting dial position, such as D/C amps to A/C amps.
Safety Rating
The category rating CAT-IV is at 600V. This safety rating lends the multimeter over-voltage protection of 8,000V.
THING I LIKE ABOUT IT
Large display with backlight
Tests micro-amps
Minimum/Maximum mode
Auto-range/manual-range
Rugged and Strong
THINGS I DIDN'T LIKE
Externally the body is good but the internal structure is not that good.
Frequently Asked Questions
Thsinde 18B+ seems to be a good multi-meter. Is it a Fluke?
We admire this product and give this product 5 stars. Fluke almost has the same features as Thsinde, but there are no business connections between Fluke 18B and Thsinde 18B. Both products are having different looks and different brands.
What is the difference between Thsinde 18B, and Thsinde 17C?
The big difference between these two Multimeters is that 18B is an auto-range multimeter that is why there are fewer selections in the dial selector whereas, 17C is manually selected there are many colour-coded options in the dial selector.
Conclusion
The multimeter is affordable for home, professional and commercial use. The multimeter is a handy, affordable tester for home and commercial use. However, it works excellent has acceptable test ranges and is accurate. As a result, the multimeter is suitable for testing everything from home electrics to basic electronics appliances, computer systems and HVAC checks. The multimeter has 10 auto-rangings: accurately measures A/C & D/C voltage and current, frequency, resistance, diode and continuity NCV test. We recommend you to buy this all in one product, because of its efficacy and good results.
Related posts: