Best Fluke Brand Multimeters | Best Reviews Guide
The world's first successful fluke multimeter with digital features was first manufactured in 1977. The multimeter gave the field technician the capabilities of troubleshooting. The big news from the Fluke manufacturer was an 8020A digital multimeter in 1977.
The company aimed to provide reliable, accurate, and robust multimeters. Easy in handling and comfortable in carrying. For this purpose, they made slim, pocket-size compact multimeters and heavy-duty multimeters with a range in prices and functions according to its requirement in the market.
Fluke Digital Multimeter Special Features
Fluke digital multimeters are robust, accurate, and reliable multimeters, more problem-solver than any other test tools in the market.
All industrial meters work to the extreme—drop, shock, humidity, any function. Every Fluke digital multimeter provides accurate measurements, consistent reliability, and safety, and a warranty is available.
Fluke has a whole family of digital multimeters. Whether you use it in the residential or the commercial industry, available with HVAC equipment or electricity, the name Fluke digital multimeter is for you.
All the Flukes' have essential functions, Like A/C and D/C voltage checks. Other features consist of resistance, frequency, continuity and diode test, and capacitance check.
Temperature and True RMS for specifically designed multimeters like Fluke 87-V and 88V mainly.
Fluke 11 Series are True-RMS Digital Multimeters
The Fluke 11 series has five True-RMS digital multimeters; each multimeter is available for its specification. The small size compact instruments offer convenient single-handed operation and a backlit display with practical use, easy in reading darker places.
Fluke 117 Multimeter ideal for electricians to work in commercial and non-commercial places, with ghost voltage detection for fast and safe performance.
Fluke 116 Multimeter
Fluke 116 Multimeter includes temperature and microamps, designed explicitly for HVAC heating, ventilation, and air conditioning professionals.
Fluke 115 Multimeter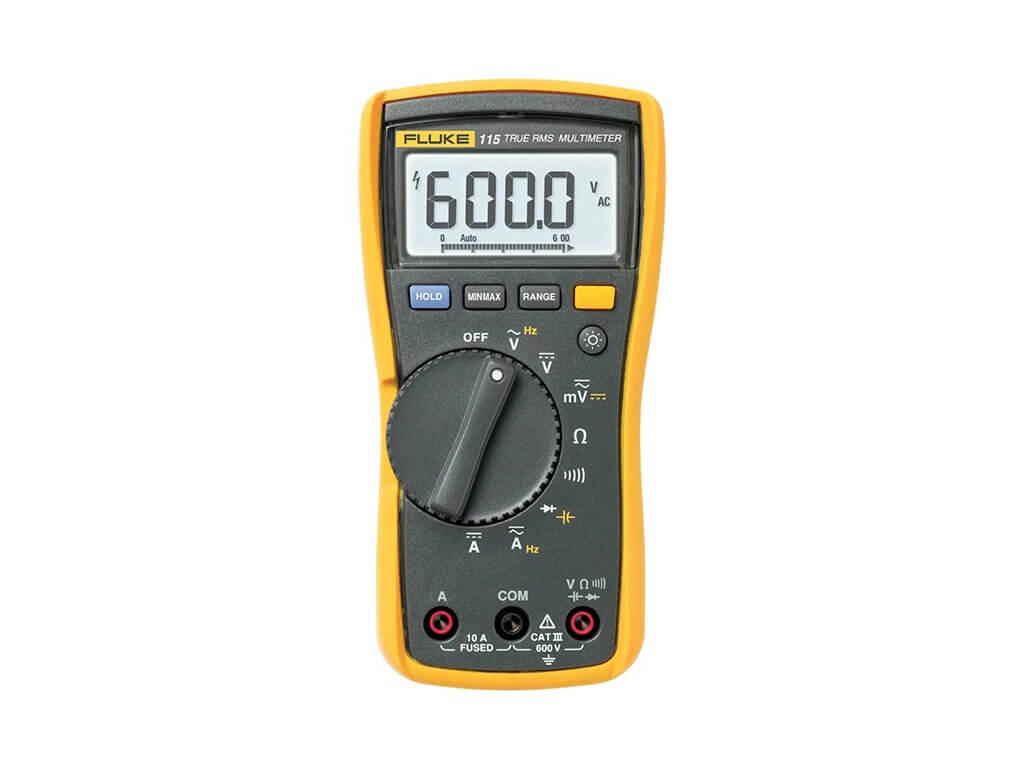 Fluke 114 Multimeter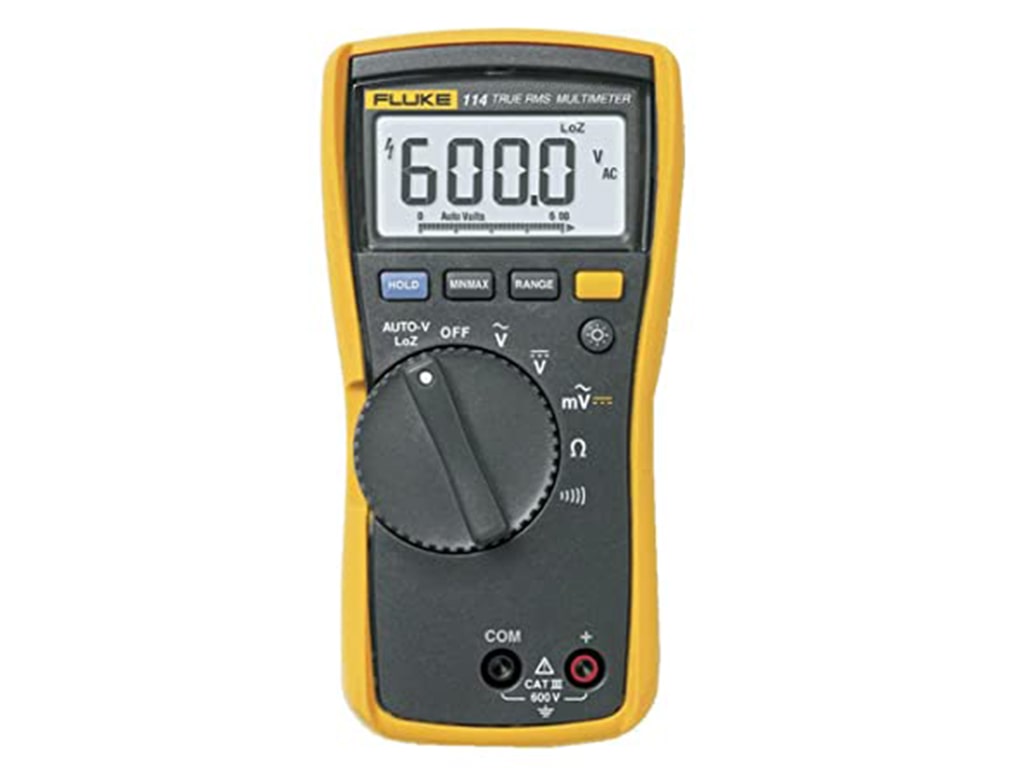 Fluke 113 Multimeter
Fluke 113 Multimeter is to test fundamental electrical problems and repair most of them.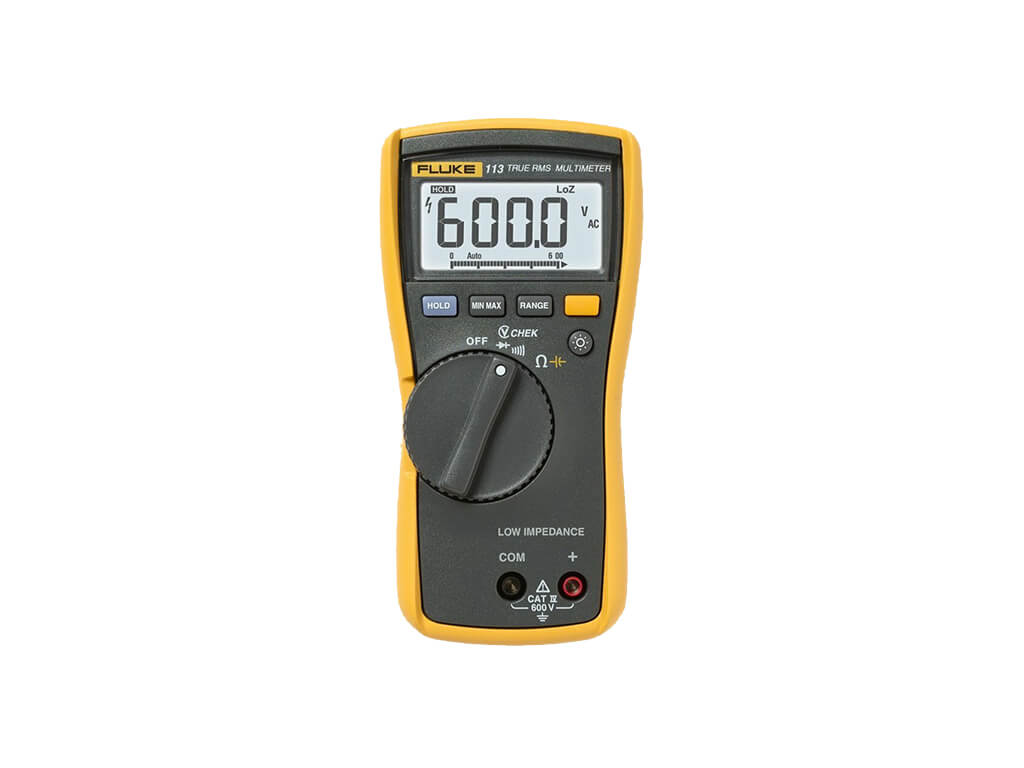 Fluke 87V Industrial Multimeter
Fluke 87-V solves complex signal problems faster.
The Fluke 87-V Industrial Multimeter provides accuracy, efficiently troubleshoot, drives the motor, automation, distribution power, and electromechanical equipment. A low-impedance lets you troubleshoot Variable frequency drives and captures intermittent's as fast as 250 µsecond.
Features include frequency to 200 kHz, plus per cent duty cycle, resistance, continuity, and diode test. It has a built-in thermometer that takes temperature readings without any other measures equipment.
Fluke 87-V has accuracy in measuring pulse-width modulated motor drive signals.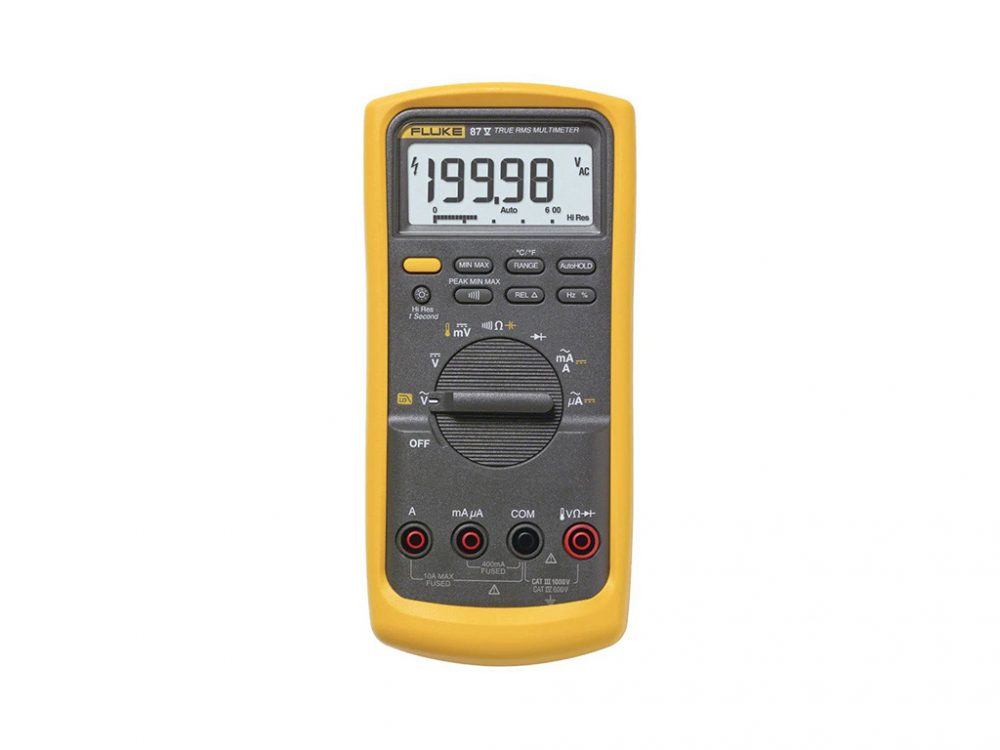 The Fluke 87-V has got a unique function for accurately measuring Variable noisy frequency drive signals. Special shielding blocks high-energy noises generated by large electrical systems and blocked their high frequency.
Electrical safety: All category their for the 87-V is CAT III 1000 V and CAT IV 600 V, rated safe. They are compliant with the over-voltage category. They work to withstand spikes above 8,000 V.
Fluke 88V Digital Multimeter
The Fluke 88V multimeter is an excellent automotive functional multimeter. It has RPM check and pulse width measurements.
Fluke 88 five series is reliable, accurate, and fast. Higher safety with CAT IV rated. High-resolution screen with two-stage backlight. Micro-amps range. Battery life is good.
Separate battery compartment shielded for safety and lifetime warranty.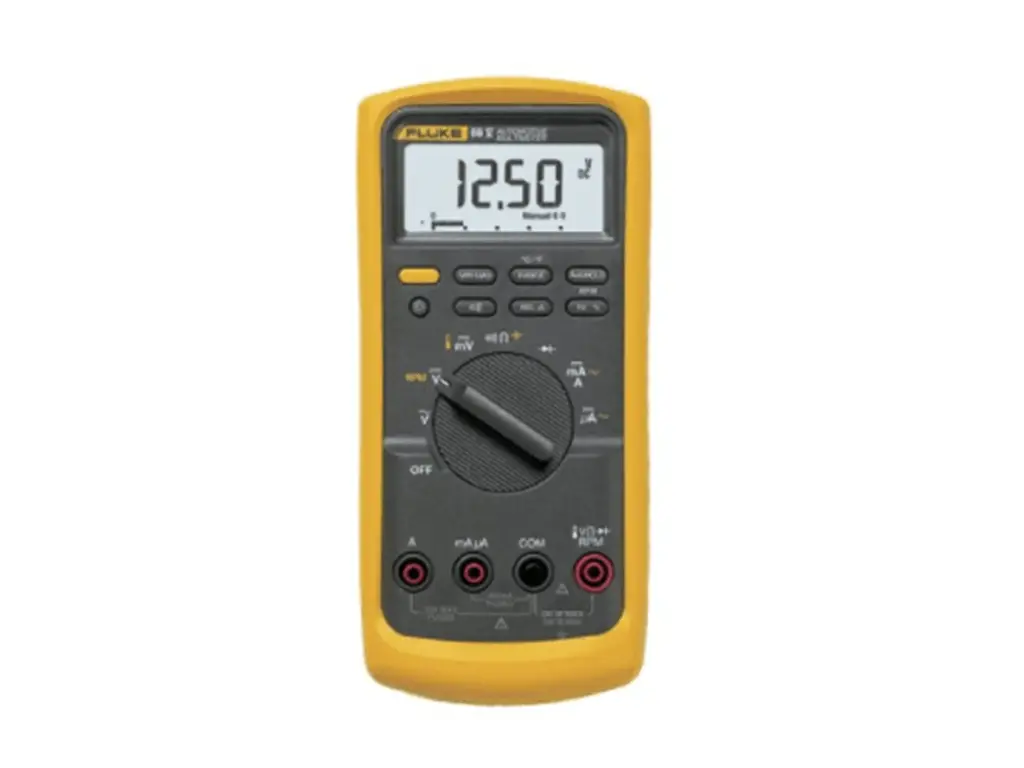 Fluke 101 Compact Digital Multimeter
Fluke 101 multimeters is a Small and compact multimeter with essential functions. Measures D/C accuracy 0.5%. Higher safety with CAT III 600 V rated. Diode and continuity test with buzzer. Pocket size lightweight design for single-handed use. Rugged, durable design. Automatic off and battery are easy to replace—overall small, accurate, reliable for DIY users and electricians for residential and commercial use.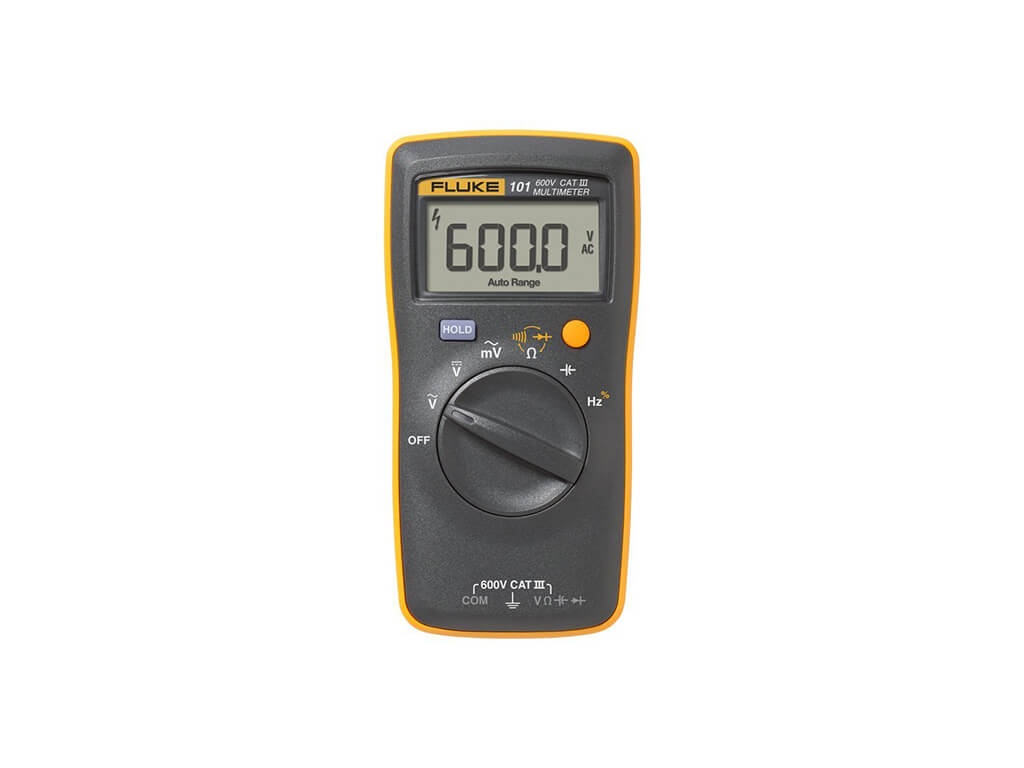 Fluke 17B Plus Multimeter
Like all Flukes, this multimeter is a rugged, reliable, and accurate digital multimeter. The Fluke 17B+ digital multimeter has all the basic functions of a professional needs. Common essential electrical measurements, temperature, frequency, and duty cycle.
The multimeter is safety rated with a 600 V Cat III. This fluke has a larger display with a bright white backlight. Extra voltage indicator. It can do Frequency, temperature, Voltage, resistance, continuity, and capacitance tests. A/C and D/C current measurements to 10 Amps. Other functions include diode test and data hold.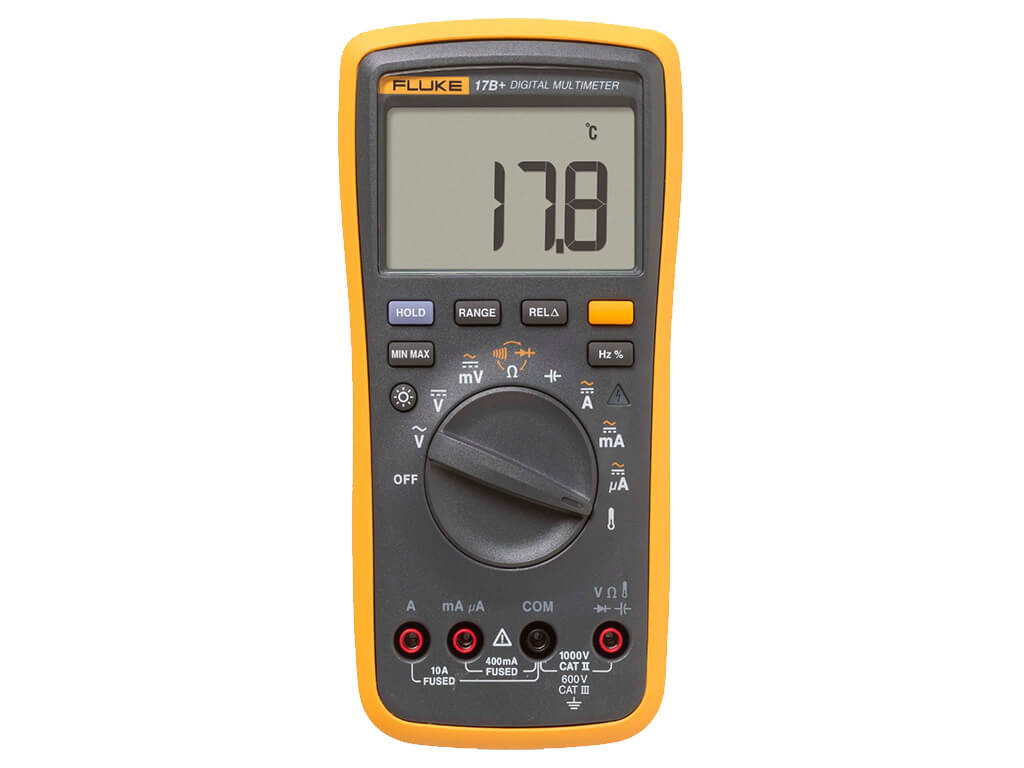 Fluke 15B plus Multimeter
Fluke 15B is also a 600 V Cat III safety rating. The screen size has a 50% bigger display with a bright white backlight. Fluke 15* have all functions; Voltage, resistance, continuity, and capacitance test.
Input terminal for A/C and D/C current measurements to 10 Amperage.
It has a diode test and an essential data hold function if both hands are not free.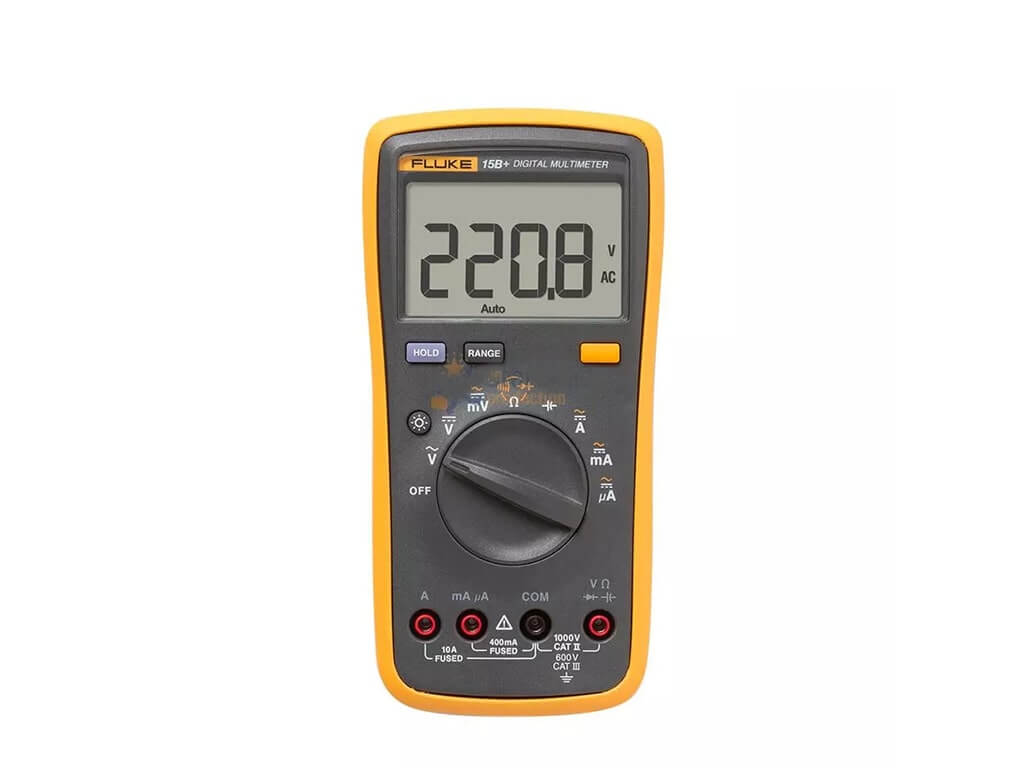 Frequently Asked Questions
Which Fluke multimeter is best for Automotive use?
Fluke 88-V multimeter is best for Automotive use:
Its functions are entirely for an automotive electrician.
THING I LIKE ABOUT IT
Fluke is rated best multimeters in the market.
Rugged, reliable, and accurate.
Specific features for each series.
Measures continuity, resistance, frequency, and diode test.
THINGS I DIDN'T LIKE
Some multimeters are expensive and have large size body.
Conclusion
If you are an electrician, you have to put a lot of trust in the test instrument you use. Fluke products are simple to use. You know you can trust them for safe isolation or fault-finding excellent quality equipment, which gives you confidence when troubleshooting solves and peace of mind when checking terminals. They are expensive but worth every penny for the regular user or trade professional.
The fluke multimeters are varying in size and shape with regards to their function and body weight. The prices also differ in respect of the functional ability of the multimeter. Fluke has all pocket budgets in its manufacturing products. Every multimeter has built its trust because of its efficacy and accuracy. So Fluke is the name in the market you can trust.
Read more: