Fluke 117 Electricians' True RMS Multimeter
The Fluke 117 is a True RMS digital multimeter. True RMS is the value of the pure sine wave to measure current. When measuring current RMS (that is, root mean square), the value is significant. And the True RMS value is much more accurate.
Most people say it does not have micro-amps or milli-amps, so it does not work for the electronics, but this is non-sense! But it is quite usable. We have been using this multimeter for 20 years, and 99% of our work is for electronic devices at the component level, board levels on computers, and more advanced electronic devices, and the opportunity to take microamps and milliamps comes around possibly once or twice a year. Therefore, 90% of the time, we use only one milliamp where I needed the most, which is more than sufficient for electronics repair alignments to amplifier stages.
Fluke 117 Quick Features:
Volt alert technology for ghost voltage detection.
Auto-Volt automatically selects AC or DC voltage.
range = 600 mV, resolution = 0.1 mV.
Low input impedance helps prevent false readings due to ghost voltage.
large white LED backlight to work in darker areas.
Temperature = -10 °C—+50 °C.
Resistance, frequency continuity, and diode tests.
Battery life is 400 hours approximately, without a backlight.
What's in the box:
Fluke 117 Electricians True RMS Multimeter
Test leads
Soft case
NIST Certificate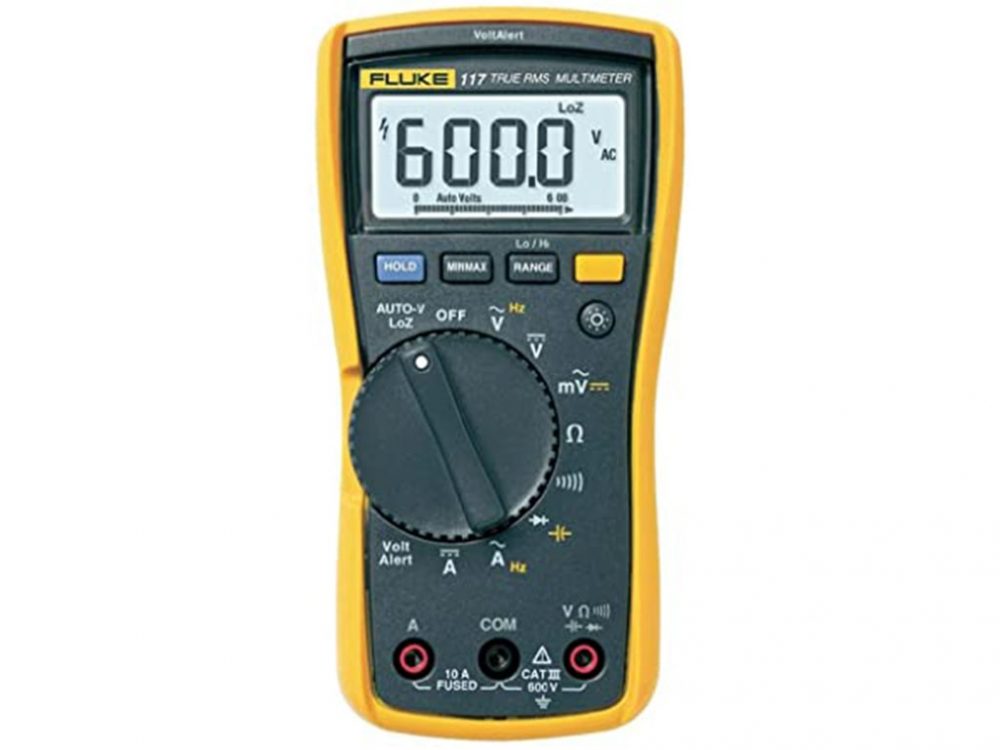 Fluke 117 Basic Features:
First things first, with a fluke 117, the feel of the meter is perfect. It has a nice solid rubber casing, despite it being so thin. There is a nice sort of probe holder at the back with information about the startup. Being in the back is cool. So you've got power-up options. If you look at this, it'll tell you on powerup, if you want to disable the beeper, you push and hold them and max on powerup, and the beep will be disabled and so on and so forth. It has got all that functionality.
LCD display screen
The screen goes It's an averagely visible screen. It's not one of the best LCDs that I have seen on a fluke meter, but it gets the job done. It's got a nice little analog bar graph etc.—good to go—volts A/C It's basically the first option, hence why you would hazard a guess that this is an electrical electrician's meter.
Frequency, Resistance, Continuity, Diode and Capacitance
To check the frequency of your A/C signal, you just push the yellow button to go across to the second function, then you've got your volts D/C, your millivolts D/C, and I see you have got resistance, sort of standard functionality. You have got your continuity tester. You have got your diode test and capacitance test. Then, of course, you have got amps A/C and amps D/C.
Now if you look at this, for instance, on D/C, you can see you can get down to one milliamp, which is good enough. The volt alert is something else. More for electrical purposes, it is basically a little light. You can set your sensitivity with the low-high functionality on the range switch, and it will flash and let you know if you have got a live power function.
Shortly it is nice that it shows you a lead warning when you switch to amps so that you know and then, of course, it's also got the low impedance voltage for removing ghost voltage not so often used in electronics but a great function none the less so before we go over to starting to do some measurements I'm going to check the continuity tester on this meter, and we're going to see how performs this does come with a nice set of fluke silicon leads. It's not the best lead that I've seen come from a fluke, but you know what, it does the job quite well and it is friendly and safe. These red leads are rated at a thousand volts.
CAT III or 600 volts CAT IV Rated
Which is more than you need for electronics work now as far as the continuity tester goes it is a latched meter, so you don't get that scratching sound, and it does seem quite responsive, which is good so, I'm quite happy with that. That's quite nice functionality, so let's get this hooked up to some power supplies and just do some resistance measurements and see how this meter performs.
A/C and D/C voltage check
We are going to go across to a D/C power supply and do a few measurements of D/C voltage, but it's clipping the crocodile leaves onto my multimeter, and you go, we're sitting at about 5.4 volts. As for the power supply, and as you can see, the Fluke is reading pretty accurately. There's something about fluke meters that they'll always get the voltage more or less correct.
So let's just crank that up a little bit, so we're sitting at 11.1 on the power supply, 11.9v. I'm on a fluke and still looking good. One thing you will notice is that it is 6000 counts at just over 6 volts.  We should switch there. We go to about six and a half volts. It switches over to two decimal places and then we can keep going to just get a voltage of around 12.5-12.4 volts on the power supply at 0.4 v, and we have got 12.38 on the needs are still pretty good, and slightly less so than it was because we are showing 20. on the power supply. was showing 19.91 on the meter.
So the meter does lose a bit of accuracy on the D/C at the high voltages but stalls well within its spec, so I'm quite happy that the meter is sitting at 31.5 on my passable. I'm showing 31.8, so that's pretty close as well. I'm more or less happy than we do expect the meter accuracy to be a little bit less accurate considering it's an electrician's meter. But it's still good for a reference check, I mean, if you're checking a  volt rail, you're going to know if there's a problem. if you're studying a 30-volt rail you're going to know if there's a problem, so this is more than sufficient for getting the job done and it's more than accurate enough for the work as well.
Resistance
We are just going to disconnect the power supply, and let's take a look at the meter on resistance. First, we're going to switch to resistance mode, and then we're going to grab a couple of test resistors out of the Packer VM. We are not going to go for a whole bunch. We're going to see how it does with lower first, and then we're going to see how accurate the meter is compared to some of the others.
So here we have a one-ohm resistor, and as you can see, that's 0.9, so that tells me this meat is pretty accurate on low resistance because we know it's a 0.92-ohm resistor from the formal Ohm's test that we did. As I said, I'm not going to get into testing hundreds of different resistance values just to check if it's accurate. You can almost guarantee it's going to be well within spec. There we go one more resistor here, 10k showing 9.8 4K. That's still pretty well happy with that now. One of the other functions, that I like about this meter and the reason why I like fluke meters.
Diodes test
Now testing for diodes I'm going to go to the diode test, and I'm going to start by first reversing. We get the mail and then check it in. Now we should be expecting 0.5 to 0.7. There are 0.5 and 0.69, but the reason why I like them is to have a listen to them. Can you hear that distinctive voice? There is a beep to let you know that it's got a reading. If there's a short, it'll let you know with the beeps right away, so that functionality for me is great, especially for testing transistors, MOSFETs, diodes, etc. 
It lets me get the job done quickly. It's one of the reasons I love Fluke multimeters, but here that's for another topic of discussion. So that pretty much covers the continuity of the resistance of the volts D/C etc. and it does have millivolts for both D/C and A/C, so that's quite nice for doing a lot of work.
Low Impedance
As I say, the amps, both AC and D/C, can get down to 1 milliamp, so that's sufficient now in the low impedance mode. I wouldn't use too much for electronics unless you're getting ghost induced voltages etc. You can maybe make use of that as far as the high-low functionality is concerned.
Min/ Max Function
The min/max thus the range switch will be for manually ranging the meter. The min/max function is pretty much select min max. Okay, it's recording what the maximum value is, so if I go across to a power supply, and I measure 12 volts or 5 volts, whatever the case, maybe it's making a note of that.
So now if I go to min average maximum, it's showing overload in that range, so you can select a different range and or whatever the case may be. For example, now it's pretty much in the wrong range, so this is cancelled. Then we're going to go to the 60-volt range, and then we're going to select min-max, and then we do a 12-volt voltage measurement of 12.35 volts. Okay, now that is your current max value. If you push the button, it will give you your minimum count, and it'll give your average over the time that you recorded it, so it's quite a nice function just for doing some basic sort of measurements to check if things are changing overtime etc.
It's basically a mini record function. One more thing about this meter: I just want to take a look at it; we're going to turn off the lights over here, and we're going to have a look at the back; it's sufficient; it gets the job done. It's good and clean in this uniform. There's a bit of a hot spot on the left, but otherwise, I have no problem with that.
Whatsoever, you saw how I did the manual range, how to manually range the meter. That's how you can do it in all your different functions. No problem at all, and that pretty much gives a basic look at the fluke.
Capacitance
One more thing we can probably check out is the capacitance. Let's take, for example, a 4,700 microfarad capacitor, and I'm not sure if this is within the range of this meter or not, but I'm going to try 4700 micF and let's see if it can pick it up. It looks like it's getting to 4300 microfarads. This is on all the caps that may be a little bit warm, but it's giving me two indications that we are within a certain range on the new 18 capacitors. Let's try a 1000 microfarad brand new capacitor, and we'll just wait for it to count them. So we have got 923 microfarads, so it's the closest thing to a thousand microfarads, so it's really good. This meter could probably be used to test motor start-up capacitors if there's a good indication that the capacitors are within their ratings or not.
For compressors, HVAC stuff as well as electronics level stuff, I'm not too sure, although the capacitance curbs. I think it should be pretty good for an everyday set of electronics meters, tinkerers, repair meters, etc.  We are not even going to worry about doing voltages of the 230-volt mains or face-to-face voltages over here because
It's going to yield the same results as the fluke 113. This meter will do precisely the same job and they are, for all intents and purposes, almost the same meter. the only difference in this one; is the low impedance function as a separate function from everything else worn on the 113 you only have one function for that. 
Pros
True RMS, temperature check
Min/max/average to record fluctuation
Accurate and reliable.
Cons
Expensive
Frequently Asked Questions
Why should I buy Fluke 117?
Fluke is handy compact, rugged and robust. Almost all basic functions for residential and commercial use. It is a true RMS multimeter.
Can this multimeter be used for Automotives?
Even the all-powerful Pointing has no control over the blind texts it is an almost unorthographic life One day however a small line
Conclusion
This is a brief review of the Fluke 117 True RMS digital multimeter. A little bit more than what a professional may use those functions for, HVAC systems and industrial plc controllers and a basic electronics multimeter for your bench so yes, the fluke 117 can fill that need and even more. So the Fluke 117 might be a great primary meter if you've got a secondary meter with micro and milliamp functionalities. That would basically give you a pretty reasonably-priced Fluke 117 multimeter with all the functionality that you may need across the tube. As I said, the only function that I like about the Fluke meters is the diode test functionality. I love that.
If you're just starting in electronics, if you're a hobbyist, will Fluke 117, an electronics bench meter. Yes, it will be your only meter, probably not, because there will come a time when the microamps milliamps may come in handy, but it's not an end-all, it's not an end game, and like I said in the beginning, this meter may not be exactly as accurate as an electronic rated meter, but it's still accurate enough to get repair work done.
Related posts:
The Fluke 116 Digital Multimeter Review
Fluke 117/323 KIT Multimeter and Clamp Meter Combo Kit Review