Best Multimeter Brands in 2022 – Multimetertools
Dozens of multimeter brands are flooding the market, but only a few of them stand out. And this depends on your needs to use it professionally or as a hobbyist. So choose the multimeters based on some features alone.
We have chosen the best top 15 multimeters for different reasons, including the accuracy of measurements, data holding feature, auto-ranging function, good clear display, affordability, and many more.
The Top 15 brands of multimeters are :
Key Feature Fluke Brand
Prices are from around $50 to $1,000 or more.
A perfect all-rounder, such as the Fluke 177, is somewhat pricey in the $400 range.
Volt alert technology, detection of non-contact voltage.
Automatic A/C & D/C voltage selection.
Enough input protection.
Lifetime warranty.
Safety ratings of CAT III 600V, CAT IV 300V
True RMS technology
Low input impedance
The continuity tester is good
Excellent input protection to shield the meter from spikes and surges
It has a selectable filter to provide accurate voltage and frequency measurements on motor drives.
Quick Summary Fluke Brand
Fluke is the best-known multimeter company because it has all the features and functions – its reliability, durability and precision measurements across several testing ranges. John Fluke multimeter Corporation was established in 1948.
Fluke is an excellent multimeter brand. They have been putting out solid measurement devices for generations and continue to innovate.
They are rugged and very safe. Safety is paramount with Fluke. Their devices are well tested and feature excellent input protection to shield the meter and user from surges and spikes.
Fluke makes handheld multimeters for most tasks
from the relatively cheap 101 pocket size multimeter.
The flagship 87V is an all-rounder meter, wireless thermal that records images and highly accurate data logging devices. Their current clamp meters are also highly rated.
The cheaper ones are the 110 Series, for example, the Fluke 117 built in China. These have a slightly less refined edge than the US-made ones, but they are still Fluke products and work almost the same.

Pros
Fluke made Precise test equipment.
The casing and design are durable.
Fluke is Heavy-duty.
The brand is versatile as it uses to troubleshoot power distribution.
Fluke is accurate in reading.
Its products are al, ways in multiple applications.
Fluke is accurate in reading.
Fluke's ergonomic dimensions.
Frequently Asked Questions
Can we use Fluke in an explosive environment situation?

Yes, Fluke 28 II Ex-model is an intrinsically safe digital multimeter designed for use in dangerous or explosive atmospheres.

Why there are so many Flukes if they have all the features in one?

Fluke was established in the '70s; since then, they have been upgrading their products. However, every product has one distinctive feature that is why there are so many Flukes in the market.
Key Features Amprobe Brand
Resistance 60M Ohms.
Low input impedance.
All in one featured, with troubleshooting functions.
Probes included
CAT III 1000V and CAT IV 600V
Detects Non-contact voltage; 10 amps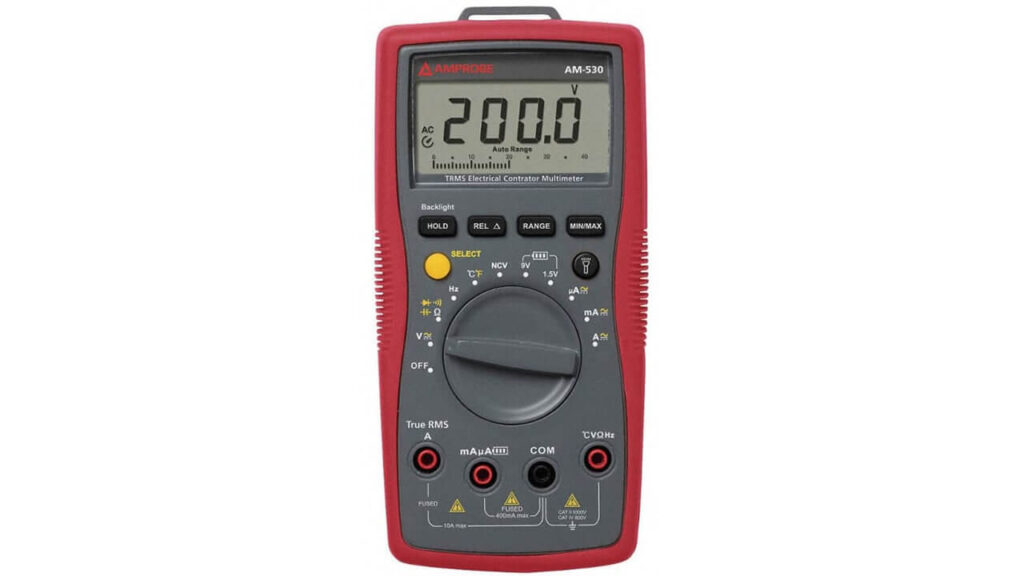 Quick Summary Amprobe Brand
Amprobe Multimeter is the original manufacturer. They make their name from current clamp meters. Amprobe is a US firm, and it is vast and produces an extensive range of Digital Multimeters across many series. In addition, they have a penchant for HVAC multimeters and specialist environmental sensors. One of the best pocket size multimeters on the market is PM55A. The best seller Amprobe Digital Multimeter in the market is the AM570 multimeter.
Just pay 80$- 100$ to get the HVAC AM560 multimeter.
The screen and control panel allows measuring numerous several ranges, such as amperage, ohms and voltage. Moreover, it's easy to read since everything is on the control panel.
The multimeter is a budget-friendly best multimeter price tag. But at this price, it comes with a few compromises, such as its long-term durability.
Pros
Amprobe is Heavy-duty.
Amprobe is accurate in reading.
Amprobe ergonomic dimensions.
Frequently Asked Questions
Why do we compare Amprobe with Fluke?
Fluke and Amprobe, both Digital multimeters, have the same quality, efficacy, safety and functionality except for industrial use. But Amprobe beats the Flukes in their prices.
How much is the warranty of Amprobe multimeters?
The warranty is only for a year.
Key Features Klein Tool Brand
Best for air checking air conditioning at home.
Measures capacitance, frequency and temperature.
Klein Multimeter has good input protection
Auto-ranging voltage
Auto-ranging multimeter feature, it's easy to use, with no need for manual adjustments. It can also measure nearly all the testing ranges.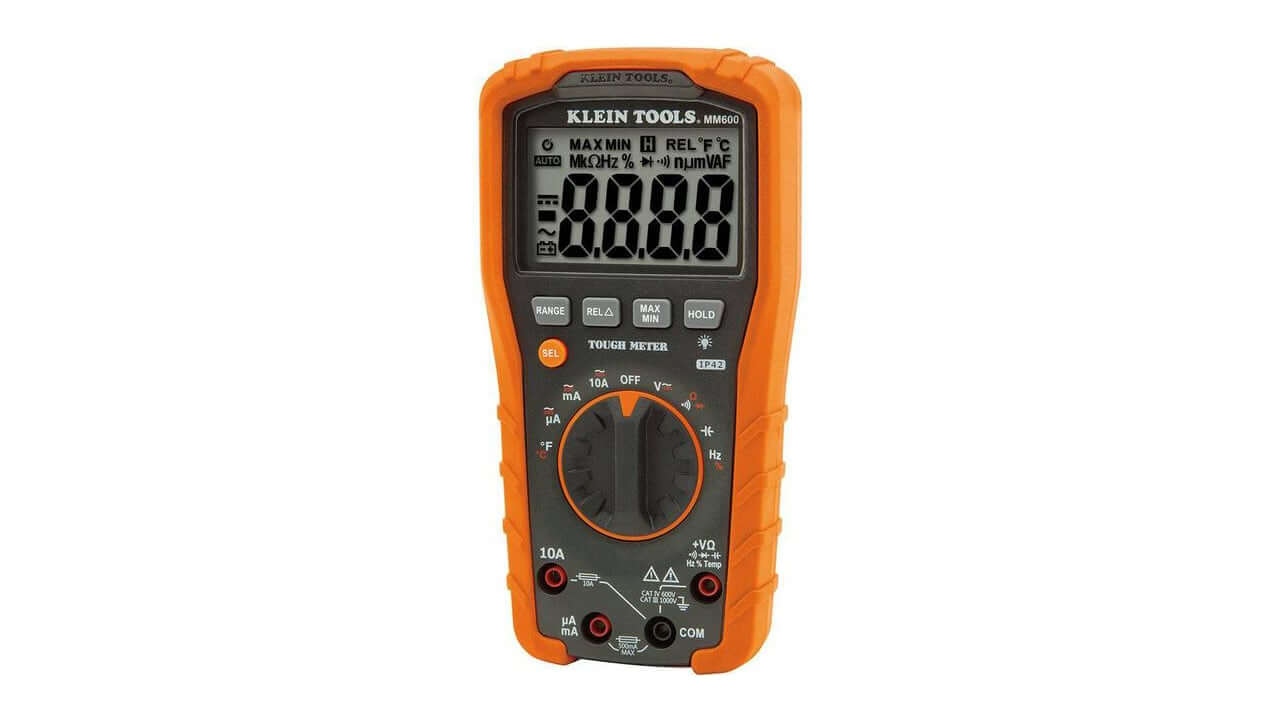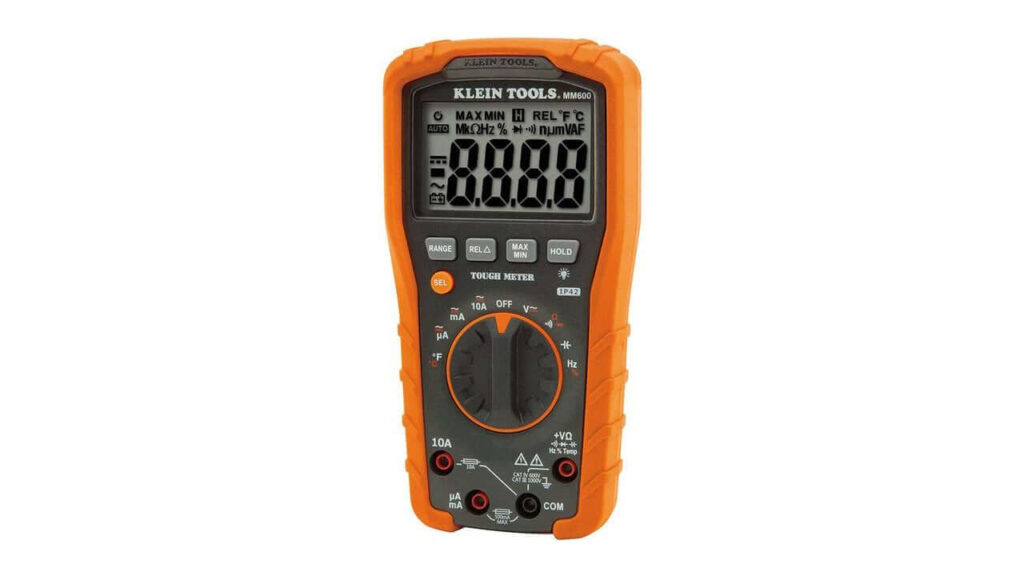 Quick Summary Klein Tool Multimeter Brand
Chicago, Illinois 1857 Mathias Klein founded Klein Tools. These are the best multimeter reliability of its test leads; the Klein multimeter company is considered the most fabulous voltmeter brand.
Klein Tool is safe for an extensive range of applications. This highly accurate data logging multimeter is quite an essential electrician's tool for residential and commercial applications. Its precision readings are a helpful tool for diagnosing the issues in numerous electronic appliances, among others. Also, it is used in conducting diode tests.
Pros
It gives relatively precise frequency readings.
Inexpensive
Easy to use
Frequently Asked Questions
Can we use Kleintool multimeter during rain or storm conditions?
Do not use the meter during electrical storms or in wet weather.
What happens if the voltage is higher than its category ratings?
Before operating the voltage check, verify meter operation by measuring a known voltage or current. Never use the meter on a circuit with voltages that exceed the category-based rating of this meter.
Key Features Brymen Brand
Best for air checking air conditioning at home.
Measures capacitance, frequency and temperature.
Klein Multimeter has good input protection
Auto-ranging voltage
Auto-ranging multimeter feature, it's easy to use, with no need for manual adjustments. It can also measure nearly all the testing ranges.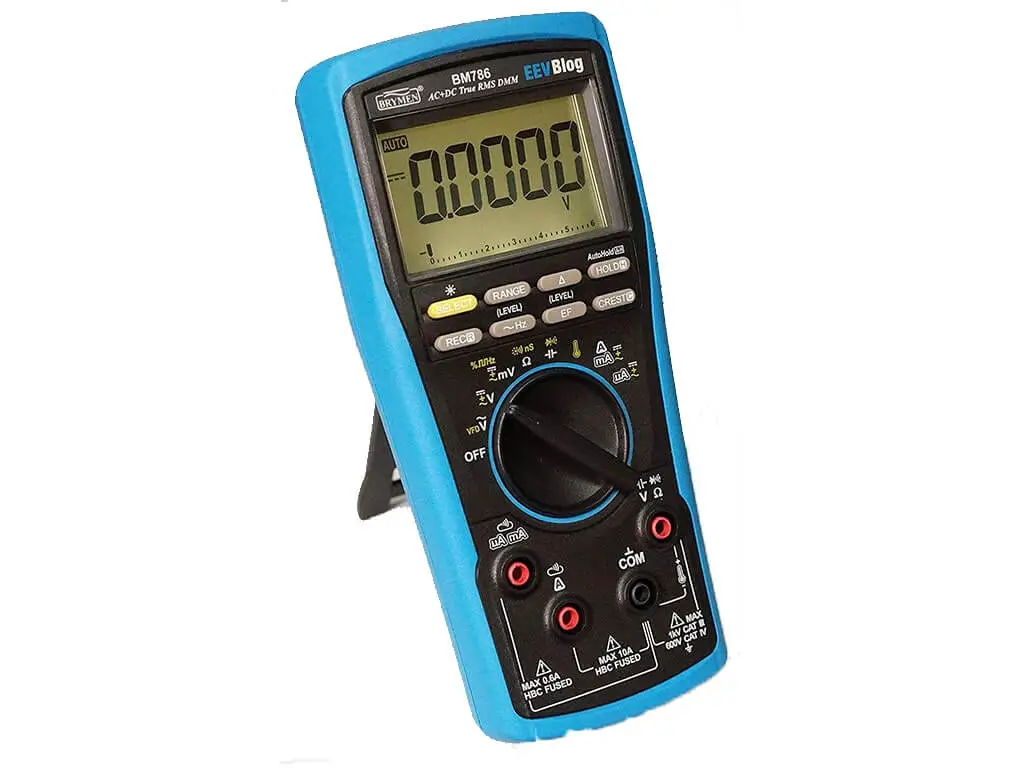 Quick Summary Brymen Multimeter Brand
Brymen is the best alternative to Fluke, and these multimeters are affordable. It belongs to a Taiwanese firm. Brymen has Greenlee's product name; it is also a mid-range multimeter, offering excellent functionality and accuracy. Brymen is as safe as Fluke on safety and input protection, but the category ratings appear lower than Fluke. But their ratings are better than some of the cheaper manufacturers brands in the market. Especially you pay more for Brymen (Greenlee) than a comparable brand because these have great features like BM257 and the Ballyhooed EEVBlog, BM235 multimeter is among their best.
Brymen Multimeter's shape is slim, lightweight and easy to grip. In addition, the mini multimeter has a rubber holster, which protects against accidental drops.
It is the best digital multimeter with a CAT IV safety rating for a broad range of residential, commercial, and industrial applications. Its backlit LCD shows bright, reliable and accurate readings, and these features top up its ratings in industrial use.
Price range= $150 – $200
Pros
Great functionality
The high-resolution screen is dual
Inexpensive
Cons
Their batteries have a short span.
Frequently Asked Questions
Why do the readings of Byramen sometimes not accurate?
Brymen has one problem: the behaviour when the battery is nearly empty; a good digital multimeter must never show wrong value! But Brymen start giving inaccurate readings when the battery is low.
Key Features Extech Brand
Extech Multimeters have a built-in non-contact voltage tester and built-in thermometer.
Data hold function.
Measuring several ranges
Accurate in frequency measurements with adjustable speed drives
Rubber holster to protect the body from damage.
CAT III safety rating.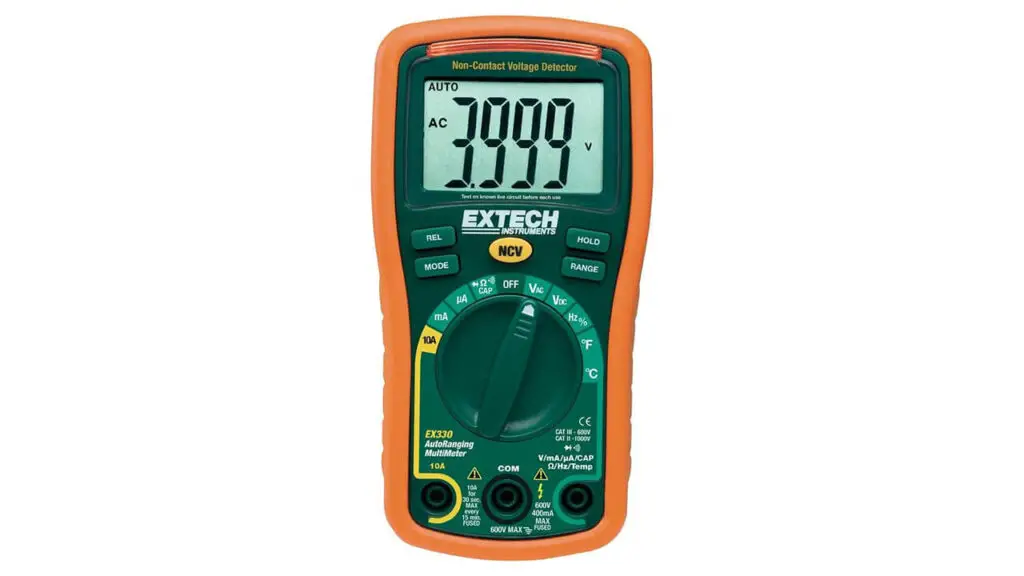 Quick Summary Extech Multimeter Brand
The Extech multimeters are almost equal to the Brymen. Extech is a US firm. They have a pretty extensive range of measuring types of equipment, from a valuable budget range, for example, digital multimeters to wireless multimeters, along with many other types of equipment.
Extech may also include more features than your typical multimeter, such as voltage detection and temperature inputs. As a result, the EX330 is one of their best selling, lower-priced multimeters.
Extech's prices are $50 or $60.
Extech multimeter's non-contact A/C voltage detector is the best feature to make the job easier. If you hold it near a power source, wait for a few seconds, and observe the screen to detect the voltage reading.
The Extech ex330 is expensive; it's a helpful device to measure frequency, voltage, current, and capacitance, even temperature. The brand is on the top list for accuracy in readings.
Pros
Easy in handling, users friendly device
Measures multiple ranges
Case included protecting damage
Cons
The LCD screen is easily scratchable.
Frequently Asked Questions
What precautions would you prefer while testing voltage with Extech?
When making measurements, you should be careful if the voltages are greater than 25volts A/C RMS or 35volts D/C. These voltages are considered a shock hazard.
Key Features Keysight Brand
True RMS feature with using short signal pulses.
LED screen.
A/C & D/C voltage measurement.
The data measures differently, and documents result quickly
Manual-ranging/Auto-ranging Digital Multimeter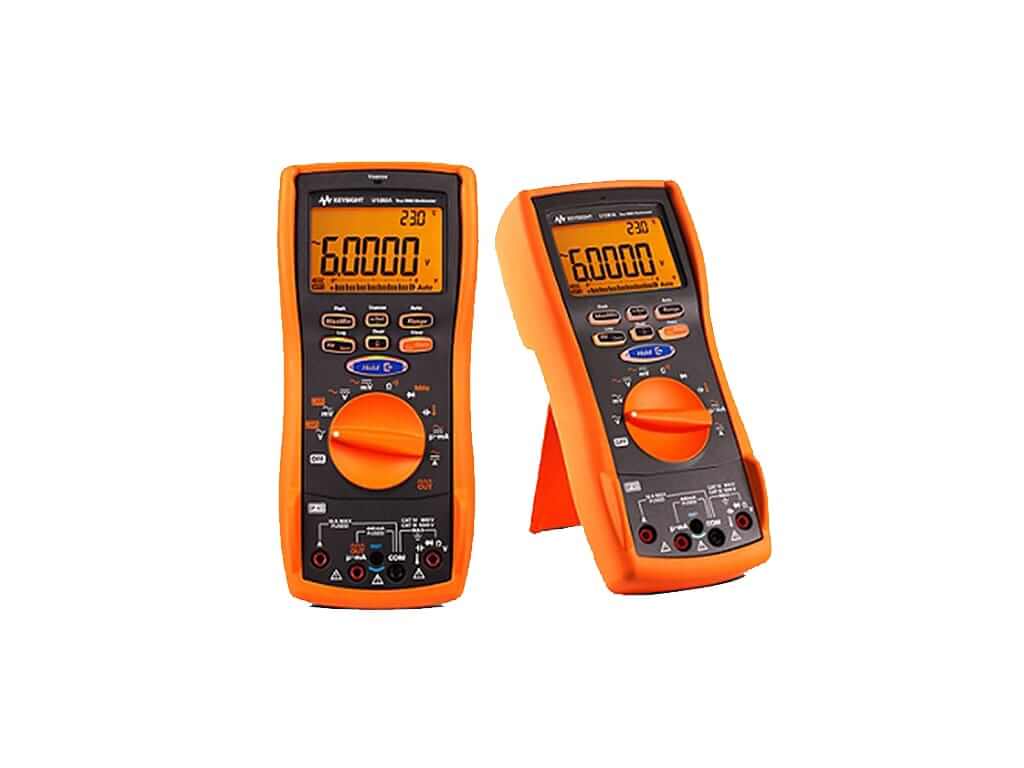 Quick Summary Keysight Multimeter Brand
Keysight Agilent is a massive name in regards to its bench meters and laboratory standard tools. Hewlett Packard creates these tools, and they produce the Keysight multimeters.
Keysight multimeter measuring voltage / current A/C & D/C, and resistance up to 500MΩ. Frequency up to 20MHz. Capacitance up to 100mF. In addition, it is used in measuring conductance, temperature, conducting diode tests and continuity tests.
Reliable readings with its true RMS feature give accurate readings for sine, square and triangle waves. In addition, it has a duty cycle, dynamic record readings and peak hold, among different types of multimeters.
The Keysight multimeter U1253B ranks up in the market compatible with higher-end Flukes like the Fluke 289. In addition, they have a high-resolution screen count high, 50,000 counts, on the LED screen.
Keysight's DMMs are up to $500.
Pros
Accurate readings
Quickly identify irregularities in the wave signal
Wireless data logging
Quick capacitance range
Frequently Asked Questions
What feature of the Keysight multimeter makes it distinctive?
The remote connection or blue tooth is the unique Keysight technology, the next-generation wireless connectivity. The new U1117A Infrared (IR)-to-Bluetooth adapter and U1115A with a remote logging display.
Key Features Keysight Brand
True RMS feature with using short signal pulses.
LED screen.
A/C & D/C voltage measurement.
The data measures differently, and documents result quickly
Manual-ranging/Auto-ranging Digital Multimeter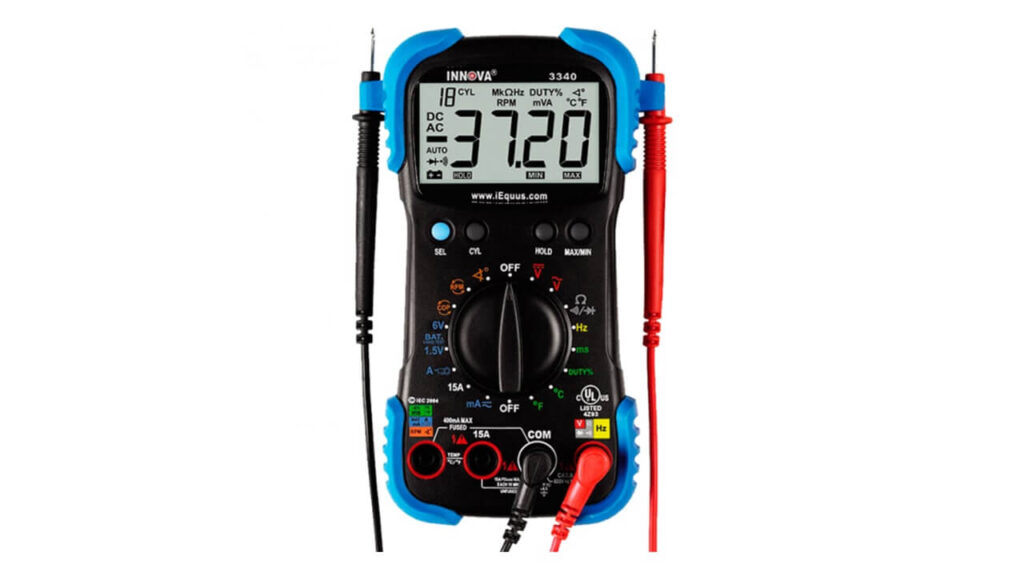 Quick Summary Keysight Multimeter Brand
INNOVA are affordable multimeters. Despite an inexpensive multimeter, the INNOVA is ranked relatively high in the market. If you are looking for the best multimeter for yourself, this is the best price multimeter for you to buyGreenlee's product name.
This automotive firm was created by Equus in California and produces more popular devices like the INNOVA 3320. The INNOVA has excellent features, in contrast with the protection of average Fluke or Agilent But, they are not meant to be used for high energy mains circuitry as a rule.
The INNOVA 3340 is a famous automotive meter for electricians, having an incline of measuring features, like RPM, dwell meter angle rotation measures and temperature input.
Prices range up to $20-$80.

Pros
Best features for automotive use
Auto-ranging multimeter
Customer service is good
Inexpensive
Wrist strap to hold cords
Frequently Asked Questions
Why do INNOVA multimeters rank up in the market?
The INNOVA are the best tool choice for the automotive industry. They come with impressive features for automotive use. That is why technicians prefer to buy an INNOVA multimeter.
Key Features Mastech Brand
It can measure both micro-amps and milliamps.
It can also measure frequency and capacitance.
It can measure up to 10 Amp.
Mastech multimeters have both manual ranging and auto-ranging features.
They have distinctive features, such as light, sound and humidity sensors.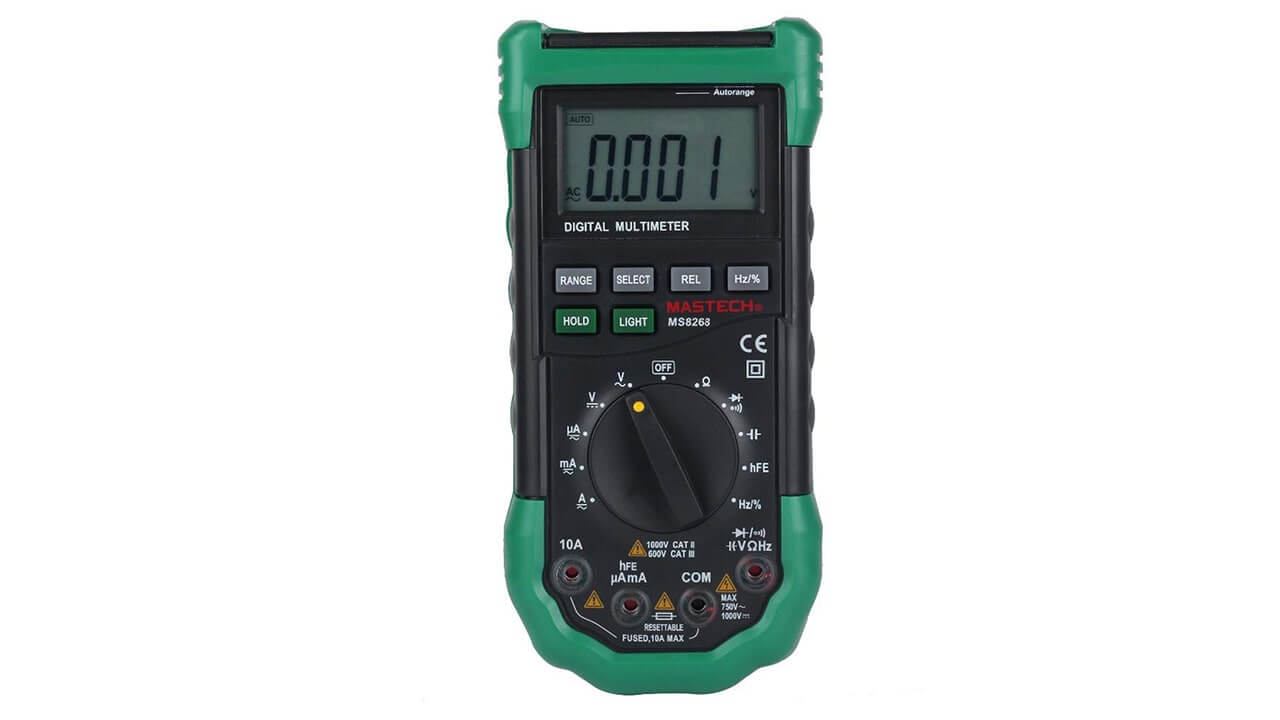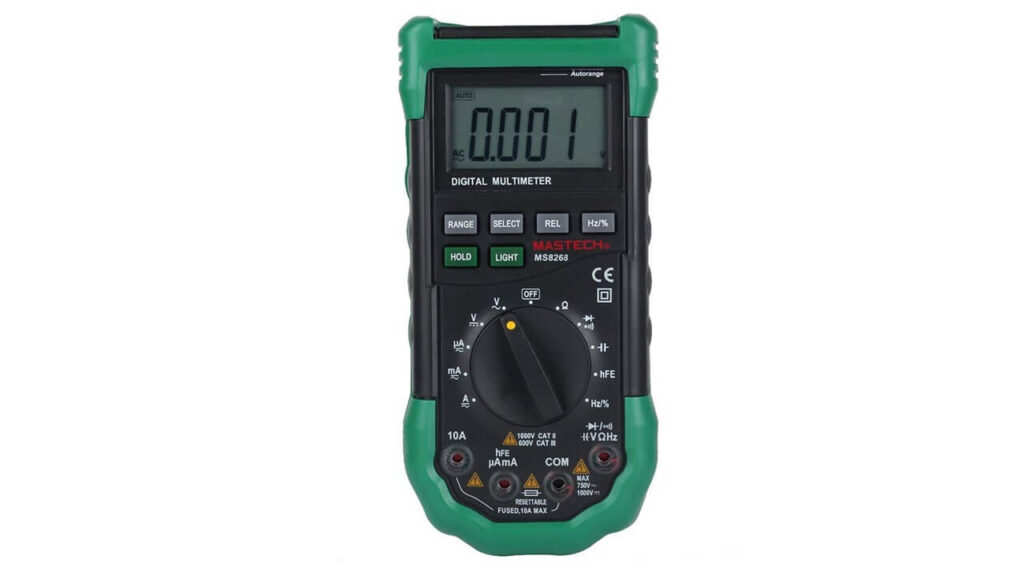 Quick Summary Mastech Multimeter Brand
Mastech is a Chinese brand, a good multimeter they have a worldwide market. They have unique features in (MS8229); they have light, humidity and sound sensors—a large bright display. However, while measuring, auto-ranging operational timings are not that fast, and input protection is not very high.
The MS8229 is 40$-50$.

Pros
Plenty of distinctive features
Readings are precise
Battery life is good
Large digital display
Easy for Home use, DIYers, and Hobbyist
Cons
Operational timings auto-ranging and continuity are slower.
Frequently Asked Questions
Are Mastech multimeters suitable?
Based on the reviews, Mastech has 5 out of 5-star ratings because of its accuracy and versatility. Only the missing feature; there is no temperature.
Key Features Tekpower Brand
It can measure both micro-amps and milliamps.
It can also measure frequency and capacitance.
It can measure up to 10 Amp.
Mastech multimeters have both manual ranging and auto-ranging features.
They have distinctive features, such as light, sound and humidity sensors.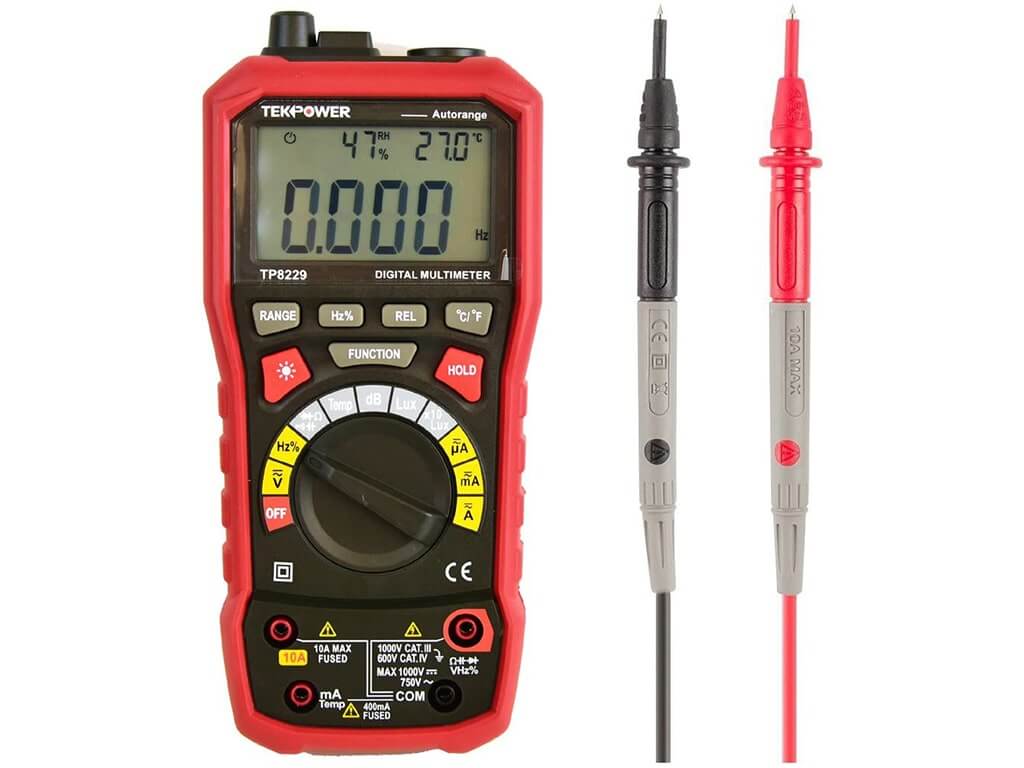 Quick Summary Tekpower Multimeter Brand
Tekpower is a Chinese-based manufacturer, similar to Mastech in pricing and efficiency. It has a good market rating because of its price. However, these are not suitable for three phases and Industrial purposes.
The TP9605BT comes with Bluetooth capability and is less expensive than Fluke and Agilent loggers.
Tekpower is using as an automotive multimeter because of its precise readings. The Tekpower TP8260L delivers a true RMS feature; it precisely measures A/C signals with a disrupted sine wave. In addition, it has both automatic ranging for beginners and manual-ranging for expert users.
This analog meter is compatible with numerous smartphones, and it has Bluetooth connectivity for data logging and transmission. In addition, its functions help in measuring the voltage, current and duty cycles.
You may buy a Tekpower for under $50.

Pros
Tekpower has accuracy in readings.
They are easy to operate.
Multiple user functions
Backlit display
Low price
Cons
The display is slow and refreshing.
Frequently Asked Questions
What is the best feature of the Tekpower multimeter?
The new Non-Contact Voltage Detection is a great feature that let you know any voltage over 110V A/C (RMS) without touching the wire. It is a handy feature to find the hidden wire. Auto and manual ranging with relative measurement. The multimeter comes with a multifunction adapter for hFE and capacitance tests.
Key Features Etekcity Brand
The box includes leads, a 9V battery, and a user's manual.
The diode test and standard continuity
Only manual ranging
The display is good
CAT I rated up to 600V and CAT II to 300V (A/C & D/C)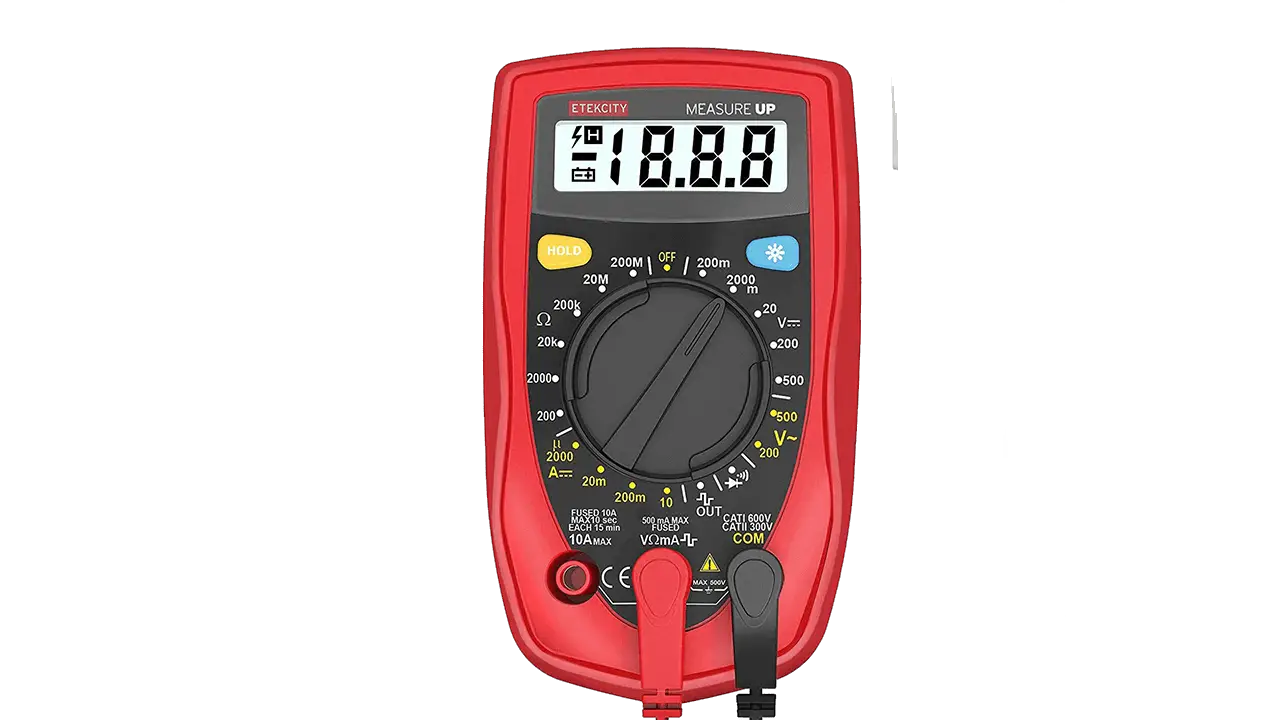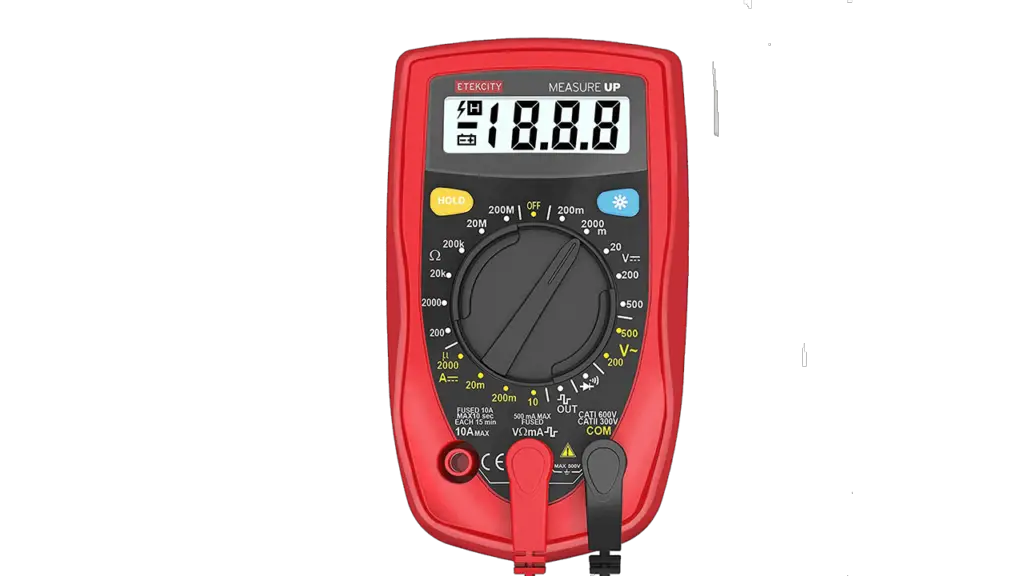 Quick Summary Etekcity Multimeter Brand
The Etekcity is a Chinese made mini multimeter. Etekcity could not be award-winning products as the best multimeter brand in a row, but they tend to attach their badge to fast selling devices. In addition, Etekcity operates online, and they serve as average digital multimeters; instead, they appeal to both beginners and professionals looking for a better meter to place in the tool bag. They are for general household use and enthusiasts, DIY users, electricians and technicians.
Most Etekcity meters are inexpensive, under $50 – the best selling MSR-R500 is less than $20.
The multimeter is incredible and dura built. It looks sturdy and steady in your hands. The large dial tester makes it easy to select the different functions. Its rubber holster protects it from damage. In addition, it has a hold button and a backlight button and a flip-out kickstand for hands-free operation.
The multimeters have multiple applications. These are best suited to professional electricians who want multifunctional meters for multi-task electrical work and backup purposes. It is easy to use together with its instruction manual.
Pros
Etekcity is a small, lightweight multimeter.
Easy manoeuvre for hands-free use.
The auto-shut and auto-sleep modes are for battery saving.
Fairly precise measurements.
Auto hold function.
Frequently Asked Questions
Concerning all features, why Etekcity does not have 5′ star ratings?
The multimeter has very expensive fuses and is challenging to find out in the market. Therefore, the electrician and technician have no spare time to find it.
Key Features Signstek Brand
Signstek is a stable multimeter.
Secure and reliable mini Digital Clamp Meter
Measure A/C & D/C Current, A/C & D/C Voltage and Resistance and Capacitance
The Signstek meters are lightweight and portable
Suitable for both Home users and Commercial.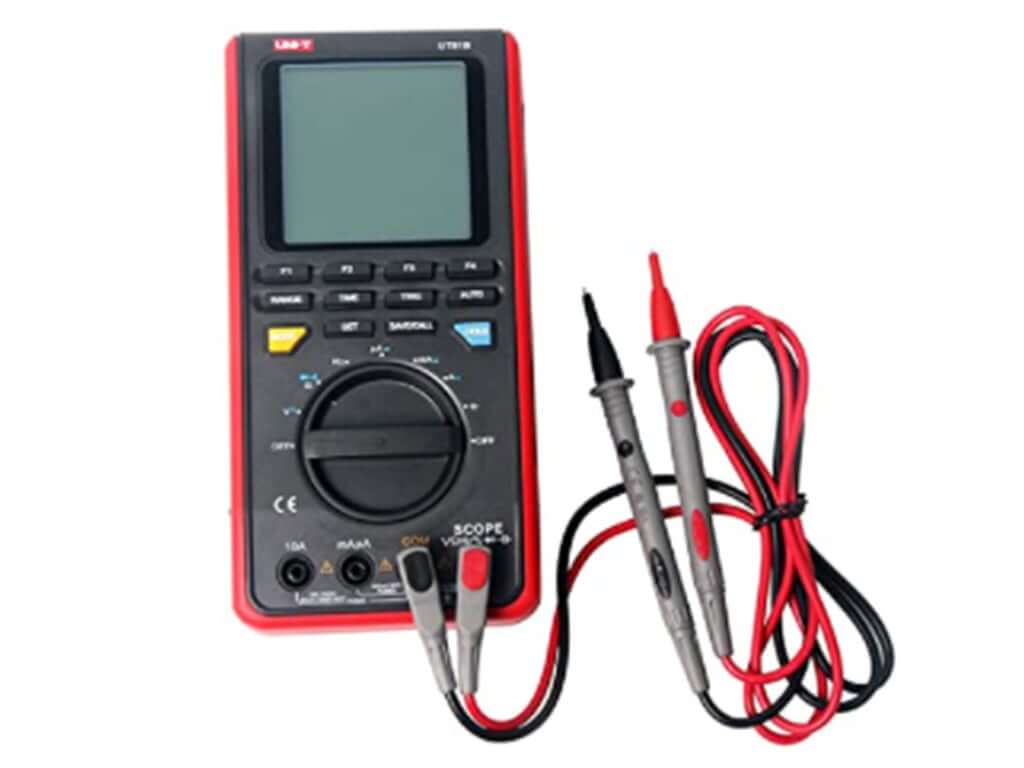 Quick Summary Signstek Multimeter Brand
The Signstek pocket multimeter has a backlight; the feature is complemented by the large screen display, making it fast to see the readings and easy to see measurement readings.
Signstek is an inexpensive qualitative multimeter because of its numerous features. For example, it comes with a holster case, batteries and test probes, and a non-contact voltage detector, a large LCD with a backlight, and a warning LED. Plus, its firm clamp meter makes it functional without any leads or to make a circuit.
Pros
The LCD is good very easy to read
Portable and lightweight.
CAT III safety rating suitable for residential and commercial uses
Fast response rate.
Frequently Asked Questions
Based on the reviews of this multimeter, why this multimeter is not rated up?
The response time is incredibly slow compared to a fluke meter. If you blow out the fuse, it is complicated to change it.
However, choosing the best from the products created by all the brands is the next level of debate.
There are plenty of factors that you need to consider while making any purchase. Do you think about the factors? Don't worry. We have got them covered in detail already.
Here are the criteria to keep in mind while purchasing the best multimeter:
1. Budget
One of the most important, or the foremost thing to consider, is the budget whenever you have to purchase a new device. Every single product has its price, so you hardly need to make the selection based on the money you have spared for the purchase.
Make sure you spend the money on the right product; otherwise, there will be no use in crying over the spilt milk. We have already mentioned the affordable multimeters below with some incredible features so you can select the best from the rest.
2. Features
Another most essential criterion to consider is the feature of the product you will buy, which is undoubtedly the most significant thing to keep in mind while purchasing a device.
The difference between the two products is their features, which sets this brand apart from others available in the market.
However, still, the features differ according to the product. So choose the important one for your requirements and your needs that fall under the budget limit.
We have mentioned the best multimeter brands created for beginners, professionals, and DIYers, so choose accordingly.
3. Quality
The other major factor to keep in mind is the quality of the product. You need to check the formed quality and the build-up of the device before making any purchase.
Make sure to check whether the product bears any fall or drop. However, do not forget to consider the durability and longevity of the device before buying.
Because if you are thinking of purchasing any expensive product, this will be a one-time investment for most people, so decide wisely instead of regretting later.
4. Safety
Does the question arise: What is the use of a device if it is not safe to use? First, make sure to purchase a perfect product in terms of safety and not harm you.
There are certain multimeters from many brands certified with CAT 600V-1000V, so get them as per requirement.
However, we have also mentioned that the device containing a non-contact voltage detector mode is the safest way to detect the voltage of live wires. Therefore, before your work and task, the thing that matters the most is your safety first.