Things to consider before buying a multimeter
Five factors to share with you to consider before buying a multimeter:
Usage
Function
Durability
Safety
Cost
These five factors will make you choose the right meter, a lot easier. A multimeter is an essential tool for electricians doing maintenance, troubleshooting… with electrical devices.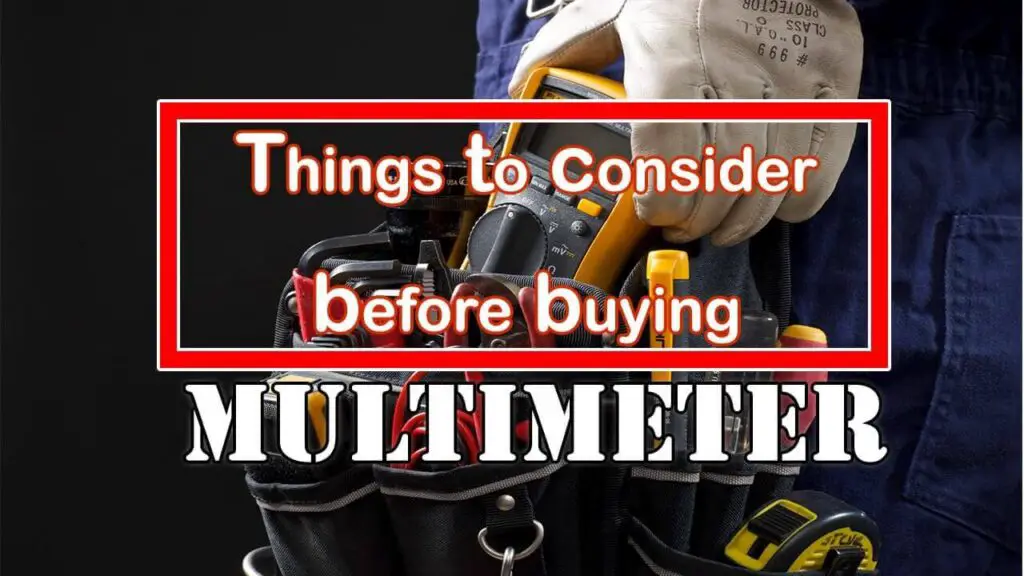 Usage of a Multimeter
Digital multimeters are extensively used in the repairing, installation, and most of all testing of electrical appliances. With the exponential increases in demands for this testing equipment and the constant increase in the variety of digital multimeters, online marketplaces are also upgraded with it; it is not surprising if you find it challenging to choose your pick.
Why do we need a multimeter to use it casually or to use it professionally?
Professional multimeters are withstanding more bumps and knocks than just an economical meter. They are supplied with better quality test leads and they are suitable for more everyday use.
Major Functions of a Multimeter
Most of the multimeters measure electrical current. When buying a multimeter, it is essential to know how much current you will need to read and how much current it can read. If you have a multimeter that reads minimum volt A/C current, a multimeter for testing minimum volt A/C current would be useless for testing a maximum A/C volts power supply. For practising electricians, they need a tool that has a maximum function in it.
A multimeter is a multi-functional tool used to measure many electrical quantities such as current, resistance, voltage, capacitance, diode test, and continuity.
What are the main functions of a multimeter, that electrician uses the most?
There are four most important functions of a multimeter;
Measuring Voltage
Measuring Resistance
Measuring Continuity
Measuring Amps
1. Measuring Voltage
Voltage is an important electrical quantity test that electricians need to measure when working with electric devices. The voltage value is mentioned for the electric power at the measuring point.
When doing maintenance or troubleshooting, an essential process is de-energising the electrical equipment's power for safety issues. When switching off the equipment's power supply, an electrician must confirm that there is no power by checking the voltage. In this case, a multi-meter act as a voltage detector.
When an electrician works with live electrical appliances, the voltage measurement will help electricians judge how good the power supply module is. There is enough power for the device to work.
2. Measuring Resistance
Most important is the resistance quantity that the multimeter can measure. Most of the electrical devices around us are built by an inductor, such as lighting, a motor which means that each device has its specified resistance value.
By measuring resistance, we can easily detect if the electrical device is not functioning well. Or the resistance value of any device is small or huge (OL). Easily detectible by an electrician with the help of a multi-meter.
3. Measuring Continuity
The continuity test with the multimeter is also helpful and used frequently by electricians. It helps us to detect the broken wires or bad contact of a button or to switch circuits. It is effortless to do a continuity test with a multimeter.
4. Measuring Amps
In addition, to check amperage or D/C voltage measure, there are two selections in a multi-meter; a higher amp and a low amp's readings.
In addition to other multi-meter functions, a multi-meter also measures frequency, capacitance and induction.
Durability of a Multimeter
Manufacturers build a product with cheaper materials it stands to reason that durability is compromised. Economical meters are made using cheaper materials.
Some convincing-looking meters have been made to look like a name-brand meter on the outside but the price in itself give them away as a knockoff.
These meters won't be shockproof. Worst, they are not accurate.
Generally, you get what you pay for. It is better to choose a quality multimeter and check to compare on different platforms!
Safety measures of a multimeter
Generally, all multimeters are measure line or household power supply.
If you use some kind of cheap multimeter, you are putting yourself at a high risk of electrocution.
Hobby multimeters should not be used to test lines or household powers.
Cheap multimeters have limited protections for the different tasks to perform.
Not only the multi-meter and the test cables are so flimsy and brittle if the handpiece breaks you will get a shock, but you will also come in contact with the lethal voltage.
Main power supplies should only be carried out by a qualified electrician.
How much should you spend on a multimeter?
For the basic testing needed or for the hobby work you only need to spend between 10 to $50 approximately. But remember you get what you pay for. Set your budget first and then shop around.
For a hobby, work choose the rubber protective case for safety. To help and protect it from bumps and knocks.
If you considering something more professional that is more reliable, accurate and safer to use around high voltages, you should spend no less than $100. My recommendation brand name is FLUKE. I am including some popular multimeters for your safety and your budget. !
Fluke 87-V Digital Multimeter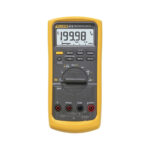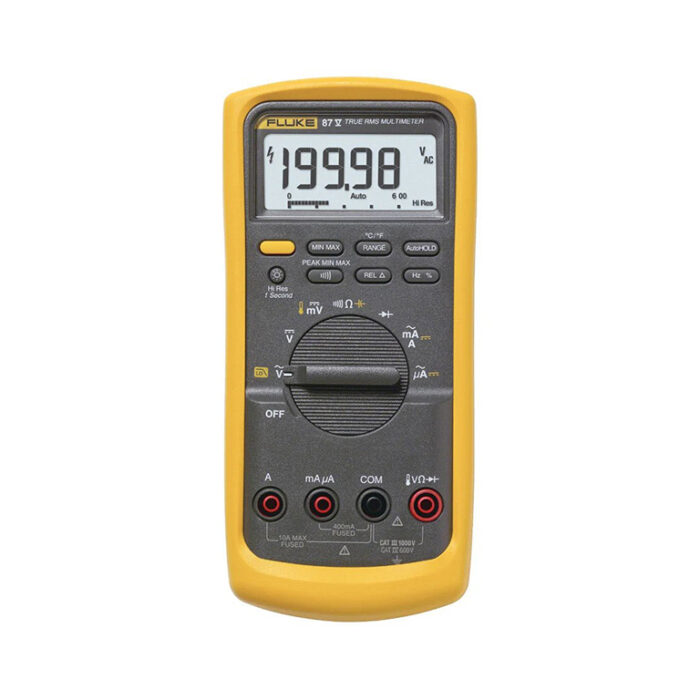 Lifetime warranty
Measure up to 1000V AC and DC
Manual & Auto ranging
True RMS; Correct Readings & Tests
Fluke 87V Industrial Multimeter, heavy duty test leads, alligator clips, test probes, strap and case
Professional
This is not a brand comparison:
Auto Range Multi-Meters
Auto range multimeters are easy to use automatically worked
Auto- multimeters are costly
Auto range multimeter give readings slower
For unknown voltage use, auto-ranging is more convenient.
Auto range meters are more featured.
Not all auto range multi-meters have True RMS.
Manual Range Multimeters
whereas manual range multimeters are challenging to manoeuvre.
Manual multi-meters are cheap
Manual meters give readings faster.
For Unknown voltage manual ranging is not good.
whereas manual range meters are under featured.
No True RMS in manual multimeters.
Frequently Asked Questions
What is the difference between auto-range and manual multimeters?
Manual meters are good for professionals whereas auto meters are easy to use, get the measurement done easily.
How do you use a manual digital multimeter?
In a manual multi-meter, you have to select the range by yourself. Suppose if you check the voltage, so there are few values on the dial meter to select, you should know what to select for your device.
Can we ruin a multimeter?
Yes, you may destroy a multi-meter by bad handling.
Does a multimeter complete a circuit?
This is the best function of a multimeter; voltage measurement. A multimeter measures voltage by Completing a circuit and also testing voltage drop.
Conclusion:
This article is an important guide to buying multimeters, for household purposes, as well as for professionals. I explain in this article, the different usage of a multimeter. And different types of multimeters are available in the market. With the help of this buying guide and the features of a multi-meter, you may easily decide to buy one for yourself.
We have described the difference and comparison of an auto-range multimeter and a manual range multimeter. which will help our readers to buy the best featured multi-meter tool for them.
In addition to this, we can learn important features and functions of a multimeter. Because a multimeter is an important tool, one should consider its quality, efficacy and its brand for safety and durability. Of course, the cost varies in the market and you will get what you pay. But there are different ranges of prices and functions. We are sharing a link below for different brands and price comparisons.
Related Posts:
How to test capacitor with the multimeter in circuit
How to test capacitor with a multimeter