Fluke 113 True-RMS Utility Multimeter
Fluke digital meter 113 has a back stand, substantial leads, and the multimeter have only basic functions; it is not loaded up with unnecessary stuff. The power button selection dial consists of an off selector and only consist of two positions. The first position is your current and battery check. The second position is Ohms and resistance. There are no milliamps and micro-amps dial settings in this multimeter. So this multimeter can do less performance in electronics appliances.
What's Inside Box:
Fluke 113 True-RMS Utility multimeter
1 Lithium ion battery included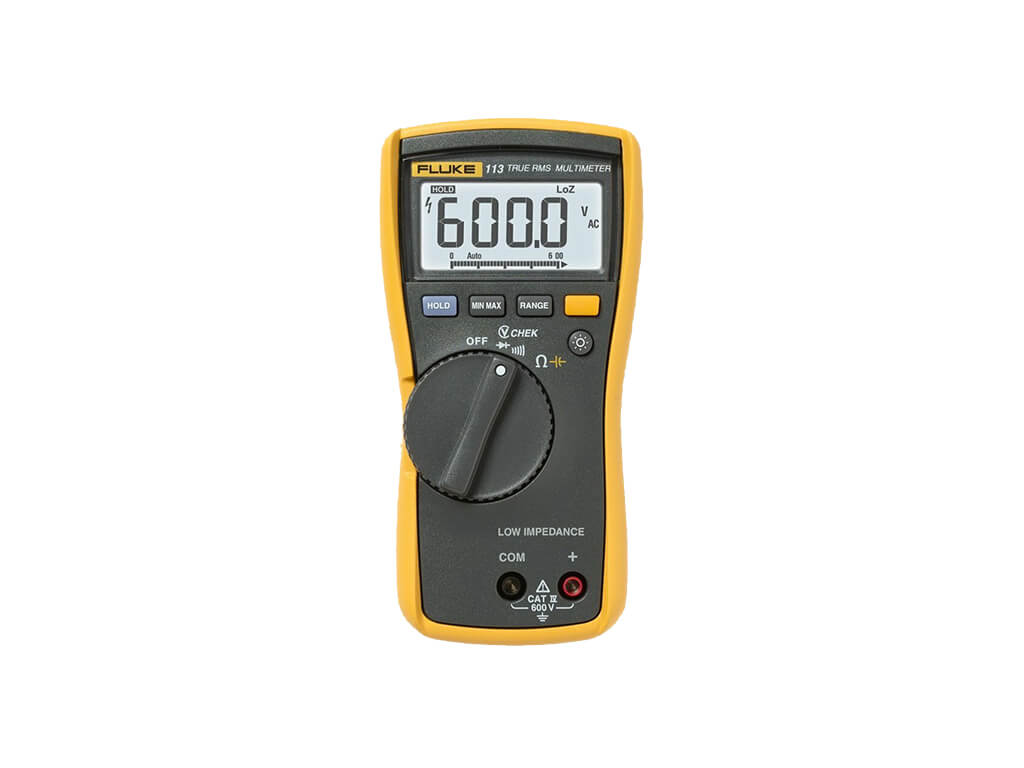 Fluke 113 Multimeter Quick review:
LoZ low impedance measurement function test for voltage or continuity at the same time.
True RMS for accurate A/C measurements on alternative loads
A large backlit display helps for easy visibility in poor-lit areas
Min/Max function to record the signal fluctuation
Digital multimeter measures AC/DC voltage, resistance, and capacitance and performs continuity and diode tests
True RMS measurement provides accurate readings when measuring linear or nonlinear
Checks for voltage and continuity at the same time.
loads where the current or voltage has a sinusoidal wave or non-sinusoidal wave.
Manual and auto-ranging modes for user flexibility
D/C check
The first thing we do will detect the volt of a battery. Put the selector dial to battery check. Now we are checking the battery power. The red and black lead is now connected to the positive and negative ends of the battery. The screen will display a reading of 3.95V.
Resistance check
We will select our dial meter to Ohms. And we will connect the two leads the display screen is showing 0.2 Ohms resistance. Now we will use an Atomiser to check resistance. We place both the leads into the negative and the positive ends of the atomiser, and the reading on the screen appears to be 0.8 Ohms, so calculated resistance was subtracted 0.8-0.2 =0.6. So our calculated resistance of atomiser is 0.6 Ohms.
So that's how you check your battery's power and atomiser resistance, easy to use and basic functions.
Hold button
The hold button in the left corner of the multimeter, the function of this button is its freezes the measurement readings while working with the voltage and currents. This function helps in reviewing the calculations.
Min-max button
This button is next to the hold button, with this button you can record your linear and non-linear flow of current in a circuit. With the help of the Min/Max/Avg button, the function is to capture, and temporarily hold, the maximum range and minimum range signal levels, which the multimeter measures.
The Fluke 113 True-RMS digital multimeter measures AC/DC voltage to 600V, resistance to 60 kilo-Ohms, and capacitance to 9,999 micro-Farads. The multimeter has a diode testing and a continuity test beeper that provides beeping to detect resistance by ON function less than 25 Ohms. When turning it Off it is 250 Ohms.
Fluke 113 can check for voltage and continuity at the same time. This true RMS meter provides accurate readings when measuring direct loads or indirect loads, where the current or voltage has a sinusoidal wave or non-sinusoidal wave.
Fluke 113 Functions and Features
The Fluke 113 provides Auto-range and manual-ranging for user flexibility.
A min-max function records signal fluctuations.
Hold function freeze readings on the display screen
The Fluke 113 have a 6000 resolution count.
Large LCD backlight working in darker areas.
Fluke 113 meter is safety rated for Category III to 600V and Category IV to 300V.
The multimeter has an installed 9V battery with a battery life of approximately 300 hours without a backlight; sleep mode maximises the battery life.
The Fluke 113 meter measures 6.58 x 3.35 x 1.81 inches.
The Fluke 113 weighs 13 oz. /404 g.
This meter includes a holster with built-in probe holders.
Fluke Digital Multimeters are electrical test meters that can perform current, voltage, resistance, capacitance, and continuity.
A variety of accessories; probes, clamps, and leads, are essential when required.
Frequently Asked Questions:
Does Fluke 113 an electrical multimeter or electronic?
Fluke 113 is a utility meter; it does not have milliamps or microamps. These are useful in electronic appliances.
Is it worth it to buy Fluke 113 multimeter?
Fluke is the name to trust. Fluke113 has all the basic functions to perform measurements of voltage A/C or D/C. Resistance, capacitance, continuity, and diode test. It is rugged, reliable and accurate.
THING I LIKE ABOUT IT
Compact and rugged
Easy to use
Auto voltage / continuity detection
Auto-ranging and manual-ranging
Backlit display for easy use
THINGS I DIDN'T LIKE
Narrow resistance range
The display is not very bright
CONCLUSION:
Fluke 113 is able to operate with one hand, and the function to detect voltage or continuity test is good for electricians to use. The performance of this digital multimeter is as accurate as other flukes series multimeters in the market. It is rugged, robust and reliable.
Fluke 113 is the best multimeter for those professionals in workloads and maintenance environments. At this price, it is the best multimeter for electricians. We had quick reviews of Fluke 113, and we have discussed its basic functions and how this multimeter is effectively in use for utility purposes. It has all the positions except milli-amps and micro-amps; This function is hardly in use, so, this multimeter is worth it to buy, and you would not feel regret in buying Fluke 113 utility multimeter.
Related posts:
Fluke 117 Digital Multimeter True RMS
Fluke 101 Digital Multimeter Reviews