What is the best multimeter for heavy duty mechanics?
The Amprobe HD160C Heavy Duty Multimeter is a successful multimeter for professional use in the most challenging environments. The heavy-duty multimeter is rugged and reliable in every day's demanding situations. In addition, it is made using waterproof manufacture to prevent moisture or dirt or grime from entering the case, and it is the primary cause of inaccurate readings or harmful shorts.
They are built of tough, fire-retardant thermoplastic resistant to grease and chemical spills, with all sensitive components shock-mounted for a drop-resistant.  The best HD160C can measure the voltage of 1500 V D/C and 1000 V A/C. It has no match with any other multimeter. The immeasurable voltage ranges can resist fleeting up to 12 kV.
Amprobe HD160C Heavy Duty TRMS Multimeter with Temperature
Quick Review:
The True RMS measurement (TRMS)
The highest safety rating of CAT IV/1000 V
High voltages (1000 V AC and 1500 V DC)
Heavy-duty Protection category: IP67
Display: LCD, 4-digit, 9999 digits
Dimensions: 200 x 102 x59 mm
Weight: approx. 642 g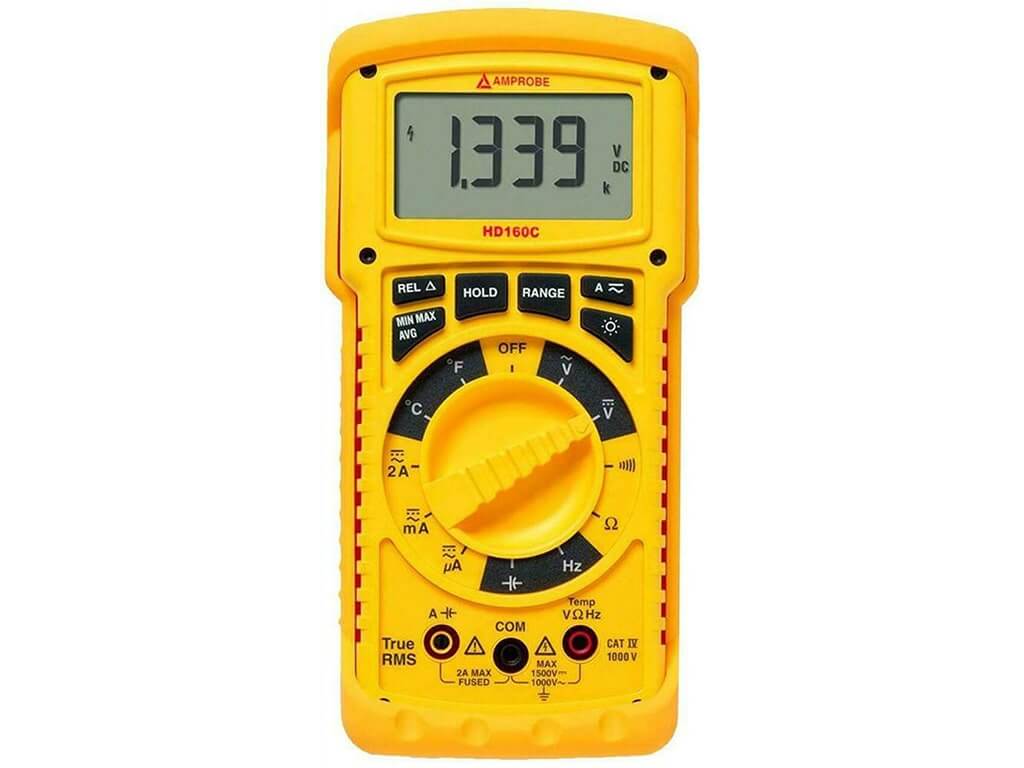 Inside Box:
Heavy Duty Multimeter with TRMS
IP67 Rating
Test leads
Pros
True RMS
Auto and Manual Range
Backlit Display
Data Hold Min/Max
Cons
Not for beginners
Little bit expensive


Basic Functions Amprobe HD160C
Voltage, current and resistance measurement
Diode and acoustic continuity test
Capacitance and frequency measurement
Temperature measurement
Features:
Automatic and manual range selection
Autoranging is a great advantage on a digital multimeter. Autoranging saves you the hassle of knowing which range of value the resistance, capacitance, voltage. The feature is the advantage of a DMM with an auto-ranging part.
There are preset ranges in the manual ranging multimeter function, and you have to know which range of value your component falls under to get the value reading. But, again, these are known by the experts.
Integrated measurement memory (Data old)
Some heavy-duty multimeters also have an auto-hold feature. When you take the reading, it becomes stable, and they will take the measurement and hold the display. That is a feature that you find much more helpful because you do not have to keep your eye on the meter, and they will beep when the measurement is on the screen.
MIN/MAX, relative and average value measurement
The Min/Max/Average function On, the multimeter will capture and hold the reading, which measures the highest and lowest signal levels. In addition to this, the multimeter maintains a running average of the signal levels measures during the working process. The average reading is beneficial for clearing out noisy signals, estimating the percentage of time when a circuit is active, and determining the overall levels of instability.
Backlight
The more significant display backlight function is helping you to work in a poorly lit area.
Shockproof and impact resistance due to holster
Amprobe HD 160C  manufactures tough, fire-retardant thermoplastic resistant to grease and over chemical spills and shock-mounted components that are drop resistant to at least 8 feet above the ground.
Auto-power-shutoff
Auto power shutoff system saves battery life. Usually, the electrician forgot to turn off the power of the multimeter. Therefore the system is beneficial in shutting off the device.
Frequently Asked Questions
Why is Amprobe HD160 C very expensive?
As the name mentioned, heavy-duty, robust, and thick bodies consist of expensive material, and the multimeter is meant to use for industrialists, and the performance is for heavy loads.
Is this Multimeter is easy to use?
Yes, this multimeter has an auto and a manual, both the functions. If you are a newbie and don't know about heavy duty multimeters, then auto-range is the best option for your easiness.
Conclusion
HD means heavy-duty HD 160C digital multimeter with true RMS. It is a rugged auto-ranging meter rated at CAT for 1000 volts. So look no further if you are looking for the heavy-duty digital multimeter that would beat up all the other digital multimeter grade schools.
The heavy-duty digital multimeters are designed for rugged use with extra features that better suit them for fieldwork. They offer extensive protection that will resist harsh and even abusive environments. Thicker case walls are made from speciality plastics resistant to grease and chemical spills. They include rubber holsters, sealed and cascade openings, shock-dampened mountings, extensive fusing and superior protection from overloads.
Related posts:
Best Inexpensive Multimeter 2021
Best Clamp Multimeter For Electricians